Post by Q3 on Jun 27, 2011 23:54:49 GMT -5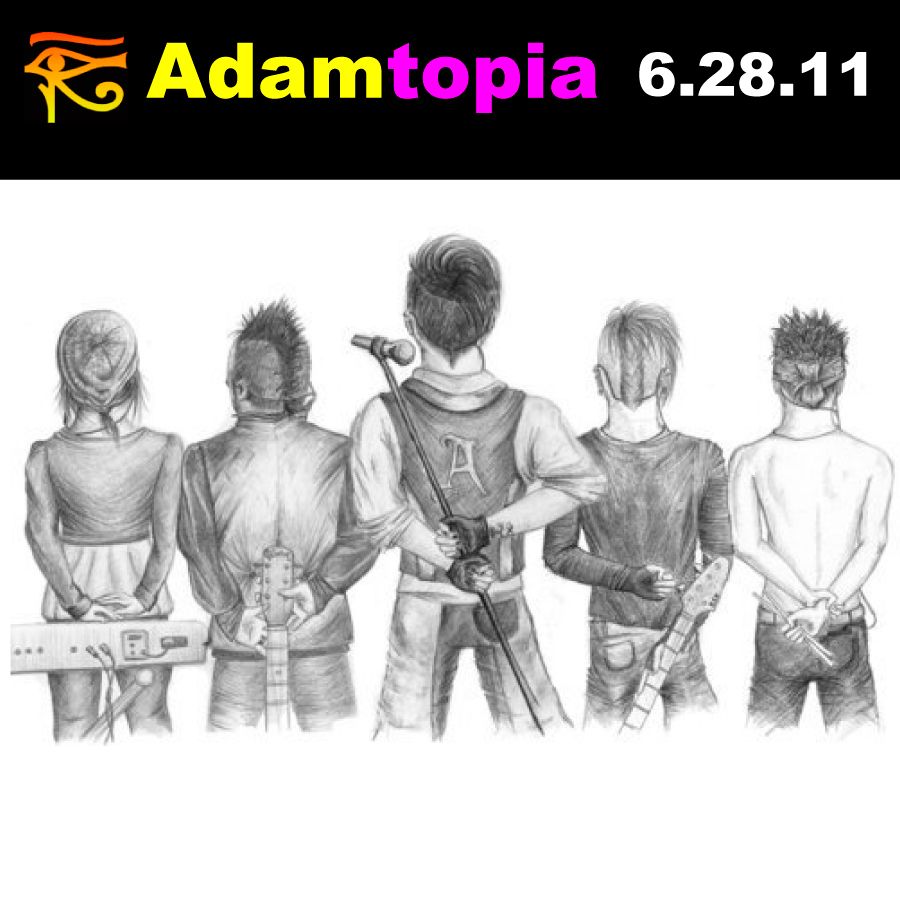 By:
speej.deviantart.com/
WWFM VEVO music video hits 20 million
"Whataya Want From Me" is now over 20 million views on Adam's official You Tube VEVO page. So where to the rest of the videos stand?
VEVO Video Counts for Adam Lambert 6.28.11 at 12:00AM
If I Had You 21,129,746 views
Whataya Want From Me 20,112,549 views
For Your Entertainment 10,287,927 views
Time For Miracles 1,316,664 views
Whataya Want From Me (VEVO Presents) 833,339 views
Fever (VEVO Presents) 775,452 views
Sleepwalker (Glam Nation Live) 740,879 views
Music Again 604,005 views
Adam Lambert's VEVO Hotel Party 409,029 views
Aftermath 242,903 views
ASK:REPLY Adam Lambert 198,841 views
2009 Red Carpet Interview (American Music Awards) 133,803 views
Strut (Glam Nation Live) 47,914 views
2009 in 60 Seconds (American Music Awards) Snoop Dogg, Paula Abdul & Adam Lambert 1,350 views
Old video – but newly noticed
Michael Orland interview with friend Sam Harris shot in Spring 2009 – early in Adam's season on Idol.
Sam Harris (of Star Search fame) posted the original of this video on his YouTube channel in April 2009 (part of it's his vlog). For some reason it didn't get noticed for a long time. They start talking about Adam at 18:00.
Link:
www.reverbnation.com/artist/artist_videos/1694490?sel_video_id=8373817&autoplay=true
Sleepwalker is single #6 in Singapore
Cecycat1 Cecy
Radio 987FM onXIN MSN Entertainment: Sleepwalker is ADAM LAMBERT's new single this week in Singapore...6th single... fb.me/12i8IQgmi
3 minutes ago
entertainment.xin.msn.com/en/radio/987fm/newthisweek.aspx
SLEEPWALKER
ADAM LAMBERT
New Season of Behind The Music To Feature Adam Lambert, Ricky Martin, Missy Elliott And More
Behind The Music, one of the most beloved series in the history of our network, is celebrating its 14th anniversary this August. Next month, a brand new cycle of shows debuts, featuring intimate looks at the lives and careers of some of the biggest stars in the music industry:
Adam Lambert
, Ice Cube, Missy Elliott, Ricky Martin, Mary J. Blige, Enrique Iglesias, and Miranda Lambert. What you're about to read is a press release that's just hitting the wires … NOW!
....
Behind The Music: Adam Lambert Premieres Wednesday, August 10 at 10 PM ET/PT
Glam-rock powerhouse, Adam Lambert has taken pop music by storm with his handsome looks, electrifying stage theatrics and jaw-dropping vocal acrobatics. In this episode of Behind the Music, Adam Lambert opens up to VH1 about the challenges he faced during his childhood including realizing he was gay in 6th grade.
After finally coping with his identity, Adam freed himself at the age of 18, coming out to his family and moving to Hollywood, CA to pursue his dream of being an entertainer. Struggling to make ends meet, Lambert received his first big break when he landed a part in the European tour of Hair at age 19. The excitement of his first role brought out Adam's wild side as he began to experiment with sex, drugs and rock n'roll.
For the next eight years Adam was continually cast in various stage productions including Wicked. At age 27 and without a record deal, Adam had a realization during a psychedelic experience at the Burning Man festival that if he wanted fame he would have to take control and make it happen.
In turn, Adam decided to audition for the iconic TV show, American Idol. Making the top 13, Adam was poised to go far in the competition until scandalous photos of him dressed in drag and kissing another man leaked on the Internet. Adam remained tight-lipped about the photos to the press, determined to keep the focus on his talent. As he advanced to the final round of the competition, the media began to debate whether America would elect a gay Idol. Placing second, Adam quickly landed a record deal with RCA and 19 Recordings, taking the opportunity to come out about his sexuality in an interview with Rolling Stone magazine.
However, Adam wasn't done shocking the world, and during his debut television performance at the "American Music Awards" he stunned audiences by kissing his male bassist onstage. Following a huge backlash from viewers, Adam released his debut album For Your Entertainment, which skyrocketed to #3 on the Billboard chart in its first week. Viewers of this episode of Behind the Music will see never-before-seen home video footage, interviews with family, friends, industry experts and musical luminaries including Barry Weiss and American Idol Season 8 winner Kris Allen. With constant criticism about being too bold, too offensive and too gay, Adam Lambert comes clean to VH1 about who he really is and the obstacles he has overcome to get where he is today.
Link:
blog.vh1.com/2011-05-23/new-season-of-behind-the-music-to-feature-adam-lambert-ricky-martin-missy-elliott-and-more/
Is Adam damaging his voice?
6.28.11 by Cassie -- copied by Q3 from the 6.27.11 News Thread comments.
I'll post this in the vocal masterclass as well as here, but I thought it was a topic that many have expressed interest in before. About whether Adam was/is damaging his voice.
I chatted with Angelina Kalahari, the UK opera singer, today. We always get wound up talking about his voice. I mentioned the rasp in his voice that we all heard when he sang Aftermath on Idol. I told her that I had read some folks commenting on that and in general, saying that Adam could no longer sing as he did in CTMBTM because he had damaged his voice singing the rock styles. I said that I thought the rasp was intentional and stylistic, and did not indicate any vocal problems.
Well, gang, the expert with years and years of professional opera singing and teaching agreed with me 100%!!! She thinks he is totally capable of singing CTMBTM with the purity he did at 22, but thinks it would be richer and more moving now than then because he has matured so much as an artist. We both said that at 22 he sang it as a boy, and now he would sing it as a man.
I probed a bit more, and asked if Adam continued to use that rasp as he does in some songs, and did it on a regular basis, if it would cause damage. She responded with a definite "No." She says that he produces the rasp with a different mechanism from other untrained pop/rock singers. Where they squeeze their vocal cords tightly to get that gravel, Adam uses his powerfully developed muscles in his throat to squeeze the sound. (You can see the muscles work in that silly video with Nikka.) Therefore, there is no vocal cord strain, and no possibility of damage. She explained that she can hear the difference between the production of the two different types of rasp, and reassured me that Adam was taking very good care of his voice in that respect. WHEW!!!! She added that it was her opinion that Adam was "code switching" a little because he was singing for Steven Tyler, and incorporated a bit of Tyler's style into that rasp on Aftermath. Interesting thought.
We also discussed how Adam makes different genres fit HIS voice, rather than altering his voice to fit the genre. How he consistently keeps his classical base of technique, but, with instinct and years of attention and practice, has found additional "tricks" to make the different genres sound authentic when sung with HIS voice.
So, for all of us out there who tend to worry and fret over Adam protecting and preserving his extraordinary instrument, we can relax, knowing Angelina's expert opinion that he is only getting better with age and experience.
Kara Dioguardi tries to rewrite the history of NoBo
6.28.11 by Q3
Sorry baby. You wrote the song. Your name in on the song. It was sung by a vocalist who matches Aretha Franklin's vocal range note-for-note (also known as Adam Lambert) and he couldn't do anything worthwhile with it.
Kara: "I wrote that song for a girl, and when it went into the male register, it was a nightmare. Certain songs don't translate."
Sorry, don't try to say "No Boundaries" would be a hit if it was sung by a girl. The hideous lyrics would still be there. Boys, girls, cats, dogs, parrots, or singing frogs – no one should need to sign this "song".
Seconds hours so many days
You know what you want but how long can you wait
Every moment last forever if you feel you've lost your way
What if your chances are already gone
Started believing that I could be wrong
But you give me one good reason
to fight and never walk away
Coz hear I am — still holding on!

With every step you climb another mountain
Every breathe it's harder to believe
You'll make it through the pain (or through all the aches and pains)
Weather the hurricanes
To get to that one thing
Just when you think the road is going nowhere
Just when you've almost gave up on your dreams
Then take it by the hand and show you that you can

You can go higher
You can go deeper
There are no boundaries
Above and beneath you

Break every rule coz there's nothing between you
and your dreams
Every step you climb another mountain
Every breathe its harder to believe
There are no boundaries! There are no boundaries!
It is like they collected every power ballad and cheezy song ever written. Then put the lyrics onto idea balls and let the manatees select the lyrics using their Family Guy technique. (Video illustration for people who do not watch South Park. I am told the manatees wrote this song while Family Guy was on hiatus. Link:
www.southparkstudios.com/clips/103666/idea-balls
)
In case you missed it here is Kara's new history of "No Boundaries".
Jun 27 2011 6:42 PM EDT 1
Kara DioGuardi Opens Up About Lindsay Lohan, 'No Boundaries'
We ask 'Platinum Hit' judge about the less-than-stellar credits in her catalog.
By Jim Cantiello
....
"No Boundaries"
Sample Lyric: "You can go higher, you can go deeper/ There are no boundaries above or beneath ya."
Backstory: Kara's two-season run on "American Idol" as "the fourth judge" wasn't as well-received as she'd hoped, but nothing stung more than the flak she got for co-writing the season-eight winner's song. In her recent book "A Helluva High Note," Kara compared Kris Allen and Adam Lambert's finale performances to a plane crash.
Kara's Take: "The song that almost ruined my career! Let me tell you what really happened: I wrote that song for a girl, and when it went into the male register, it was a nightmare. Certain songs don't translate," DioGuardi admitted, adding that her finale half-naked sing-off with "Idol" reject Bikini Girl helped redeem her status with TV critics. "When your songwriting is really bad, just put a bikini on," Kara joked.
Link:
www.mtv.com/news/articles/1666503/kara-dioguardi-hits.jhtml
American Idol: The eBay Numbers
Tuesday, June 21, 2011
Since I was on eBay yesterday ordering some assorted stuff for my family, I thought I would see how many items were available for the winners and runners-up of American Idol over the past several years. All I did was enter their names into the main eBay search field and looked to see how many items there were for sales for each contestant. To limit the selections I just picked the 10 latest winners and runners-up from the past five seasons. Here are the results of the numbers:
1) 2,021 = Adam Lambert
...
Adam Lambert has far and away the most items for sale on eBay
...
Link:
aistats.blogspot.com/2011/06/american-idol-ebay-numbers.html
Upcoming Events
Check the Adamtopia calendar for more events and links to more info.
All week 10:00AM UK time: Sound Bath Angelina Kalahari on "Adam Lambert's Powerful Lyrics".
The Sound Bath is also presented by soprano, Angelina Kalahari, as a radio programme on
www.mywordradio.com/
. Please feel free to join her there on alternate Tuesdays at 10:30pm UK time. The programme will then be re-broadcast at 10:00am daily for the rest of the week.The next programme, "Adam Lambert's Powerful Lyrics" will be broadcast on Tuesday 28 June 2011.
soundbath.wordpress.com/
Here is a link to the world time zones for 10:30pm UK time:
timeanddate.com/s/229z
July or so: Behind the scenes video of Adam #2 recording sessions to be released.
7.29.11 Adam performs at the St. Agathe en Feux Festival in Sainte-Agathe-des-Monts, QC, festival concert.
ATop Quebec concert thread:
www.adamtopia.com/index.cgi?board=adam2performances&action=display&thread=321
8.10.11 Adam Lambert "Behind the Music" premieres on VH1.
Around 8.30.11 New single released
October-November 2011 MTV promotional video broadcast (unconfirmed)
Around 11.7.11 Adam's second album releasedEvery Saturday from New Zealand
-- Adam Lambert Hour -- Live 7:00PM EDT US.
Link:
www.adamlamberthour.co.nr/
Check out the ALH page for podcast of previous shows.
This is the only weekly Adam Lambert show in the world.
Help Keep Adamtopia a Great Place
Adamtopia is a labor of love -- meaning no one makes any money on this site. So our staff are all volunteers. Be nice to the moderators, they make this forum a pleasant place
We don't have a lot of rules here but they are essential. Just as a reminder...
The Adamtopia guidelines are quite simple. To be a member of Adamtopia...

1. You must be an Adam fan.

2. You must be respectful of other members. Feel free to express you opinion, but be glitterier and golden.

3. Strive to be funny, entertaining or informative when you post. Avoid posting something that has already been posted.

4. Never question anyone's right to post, the appropriateness of a topic or define the proper what for an Adam fan or Adamtopia Member to behave. Let the moderators do their job.

More rules will be added if the need arises but, if everyone follows there these rules, we will not need a lot of rules.


Comment or read more here: adamtopia.com/index.cgi?board=guidelines&action=display&thread=10#ixzz1EwvDLF8D