Post by Q3 on Jul 1, 2011 21:56:43 GMT -5
Welcome to July. We briefly interrupt this forum for our mid-summer weather forecast……
[/size][/color]
Adamgasms
Name Ali Tamposi
Location Miami/Los Angeles
Bio I write songs, and dream of Dancing on the Moon!
@alitamposi Having a musical orgasm listening to @adamlambert in the booth! Dyyyyiinngggg!!!!!!!!!!
@ekiddbogart Is that what that is? Thought u were seizing RT @alitamposi: Having a musical orgasm listening to @adamlambert in the booth! Dyyyyiinngggg!!
alitamposi Ali Tamposi
Having a musical orgasm listening to @adamlambert in the booth! Dyyyyiinngggg!!!!!!!!!!
2 hours ago
in reply to ↑
@heycassadee Cassadee Pope
@alitamposi you are seriously killing me right now. HE'S A BEAST!
2 hours ago
twitter.com/heycassadee
Cassadee Pope
@heycassadee West Palm Beach, Florida
I play in a band called Hey Monday.
www.facebook.com/heymonday
First Peak at Adam's Interview for TALK@MTV PLAYGROUND
7.1.11 from AdamOfficial.com
Last week, Adam took to a cool downtown LA location to film a piece for Talk@MTV Playground. This was a piece that will air internationally, but check out some photos from the shoot right here.
The concept of the spots are pairing together a musical artist and a leading creative in the fashion world who have mutual respect for each other. They sit down and discuss what inspires them, their work and what drives their creativity.
Adam sat down with SKINGRAFT Founder, Johnny Cota seen here in the photos. Stay tuned for air date and more information.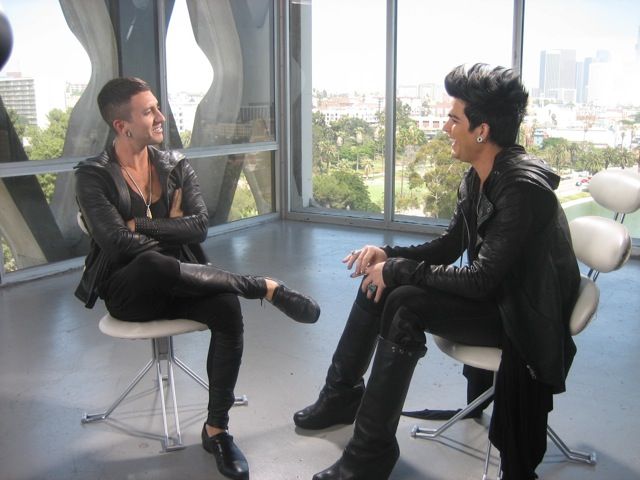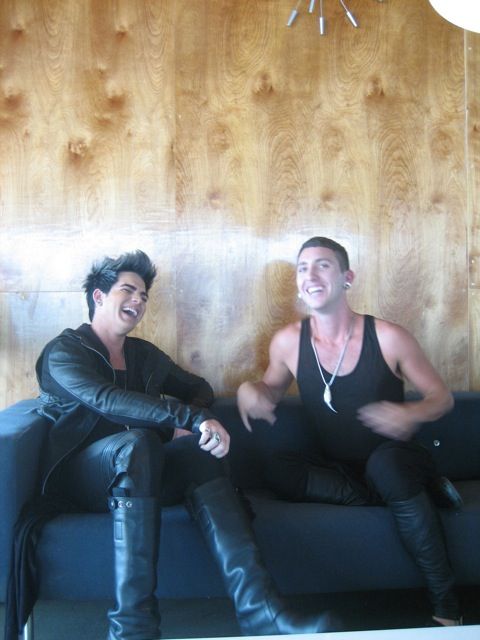 Link:
www.adamofficial.com/us/news/38761
E-Newsletter from RCA
This e-newsletter arrived in fan mailboxes on 7.1.11. The storm is underway.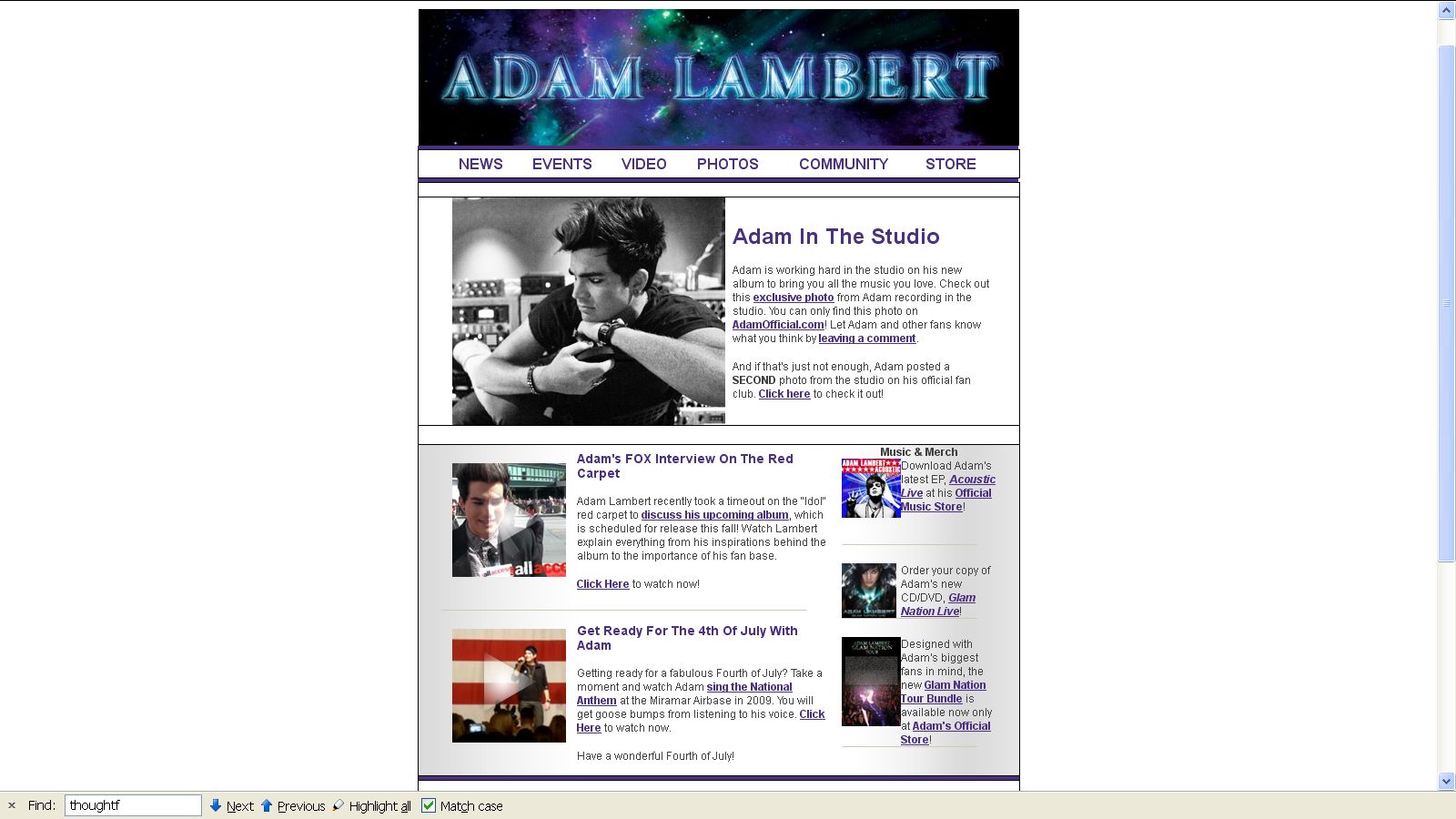 A bit of Twitter Fun
IamCarmit Carmit Bachar
Wtf is up with LA traffic today?! Its ridiculous:(
22 hours ago
in reply to ↑
@adamlambert Adam Lambert
@iamcarmit I KNOOOOW. Like, crawling.
1 minute ago
adamlambert Adam Lambert
@iamcarmit Hahha didn't realize u posted that yesterday. But today's traffic sux too
1 minute ago
@randommedley #FF @adamlambert for traffic and @saulikoskinen1 for weather.
New Zealand Herald page A28
twitpic.com/5jot5i
Brainstorm update
7.2.11 by Q3
I will consolidate the ideas over the weekend. They are so awesome that they deserve to be rolled up with care. So if you have some ideas to contribute, check out page 1 of the 7.1.11 for details then post in either the 7.1.11 or the 7.2.11. And if you haven't read yesterday's thread, don't miss it – it is filled with "the most scathingly brilliant ideas". ("Trouble with Angels", 1966
www.imdb.com/title/tt0061122/quotes
)
Upcoming Events
Check the Adamtopia calendar for more events and links to more info.
All week 10:00AM UK time: Sound Bath Angelina Kalahari on "Adam Lambert's Powerful Lyrics".
The Sound Bath is also presented by soprano, Angelina Kalahari, as a radio programme on
www.mywordradio.com/
. Please feel free to join her there on alternate Tuesdays at 10:30pm UK time. The programme will then be re-broadcast at 10:00am daily for the rest of the week.The next programme, "Adam Lambert's Powerful Lyrics" will be broadcast on Tuesday 28 June 2011.
soundbath.wordpress.com/
Here is a link to the world time zones for 10:30pm UK time:
timeanddate.com/s/229z
July or so: Behind the scenes video of Adam #2 recording sessions to be released.
7.29.11 Adam performs at the St. Agathe en Feux Festival in Sainte-Agathe-des-Monts, QC, festival concert.
ATop Quebec concert thread:
www.adamtopia.com/index.cgi?board=adam2performances&action=display&thread=321
8.10.11 Adam Lambert "Behind the Music" premieres on VH1.
8.18.11 Adam at the VH1 Do Something Awards. 9:00PM EDT/PDT
Link:
www.vh1.com/shows/events/do_something_awards/2011/
Around 8.30.11 New single released
October or November 2011 (Date and Time TBA) MTV Talk@Playground with Adam and SKINGRAFT'S Johnny Cota. Will be broadcast internationally.
Around 11.7.11 Adam's second album releasedEvery Saturday from New Zealand
-- Adam Lambert Hour -- Live 7:00PM EDT US.
Link:
www.adamlamberthour.co.nr/
Check out the ALH page for podcast of previous shows.
This is the only weekly Adam Lambert show in the world.
Help Keep Adamtopia a Great Place
Adamtopia is a labor of love -- meaning no one makes any money on this site. So our staff are all volunteers. Be nice to the moderators, they make this forum a pleasant place
We don't have a lot of rules here but they are essential. Just as a reminder...
The Adamtopia guidelines are quite simple. To be a member of Adamtopia...

1. You must be an Adam fan.

2. You must be respectful of other members. Feel free to express you opinion, but be glitterier and golden.

3. Strive to be funny, entertaining or informative when you post. Avoid posting something that has already been posted.

4. Never question anyone's right to post, the appropriateness of a topic or define the proper what for an Adam fan or Adamtopia Member to behave. Let the moderators do their job.

More rules will be added if the need arises but, if everyone follows there these rules, we will not need a lot of rules.


Comment or read more here: adamtopia.com/index.cgi?board=guidelines&action=display&thread=10#ixzz1EwvDLF8D