Post by Q3 on Jul 12, 2011 23:42:22 GMT -5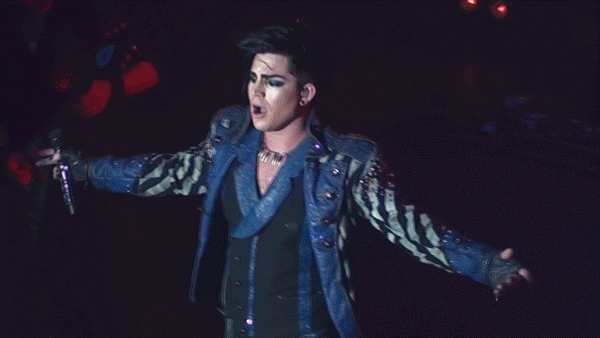 This animation has nothing to do with the story that follows, it is just eye candy.
RCA says soon!
7.13.11 by Q3
I could write 15 or more Examiner articles based on these two tweets! I can see the headlines now:
RCA Assures Fans they'll be "hearing plenty from him" soon!

RCA to Glamberts: "Be patient it will be worth it!"

RCA Plans Big Promotion

Adam Lambert hides from fans but RCA says he will resurface soon

RCA says that Adam will not be seen until he finish his album

Will Adam Lambert be back? RCA says yes!! What do you think? Take our poll.

RCA scolds Glambert's fans, "Be patient"

[/b][/size]
Oh, I almost forgot, here are the tweets:
runawaysu susan
@rcapromo Who is Adam Lambert? I mean, he has not appeared on anything, wonder if anyone will remember him soon...........(sarcasm)
in reply to ↑
@rcapromo RCAMG Promo Dept
@runawaysu when Adam is finished recording his new album we'll all be seeing & hearing plenty from him! Be patient it will be worth it!
6 minutes later
Vote for Adam!!!!
DO SOMETHING Music Artist
7.13.11 by Q3

The nominees:Adam Lambert
Justin Bieber
The Black Eyed Peas
Lady Gaga
Nick Jonas
Linkin Park
And VH1 updated the Adam info to include DonorsChoose.org and charity: water.
The original description:

How to vote for ADAM!!!!!!!!!
VOTE HERE:
www.vh1.com/shows/events/do_something_awards/2011/music-artist/
Click voting link (below). Click on the green VOTE button. You do not need to Tweet or Facebook message your followers to have your vote count. Just click on the NEXT CATEGORY >> button.
You can vote again by clicking on the blue button labeled MUSIC ARTIST in the third column. Then vote for Adam again. THERE IS NO APPARENT LIMIT ON THE NUMBER OF HUMAN VOTES – there is now protection against bot voting because the ballot order changes every time you vote.
If you're not getting a page with green boxes next to each nominee, hit your browser refresh.
VOTE HERE:
www.vh1.com/shows/events/do_something_awards/2011/music-artist/
This is a great way to vote fast!
Posted by pjd THANKS!!
So far, the easiest method I've found for voting is using chrome (Google's Chrome browser). I have 10 tabs all open to the voting page.
The 1st time I set this up, I went to "option" (click the little wrench on the right side of the menu bar and pick Options from the menu) and on the tab that opens up for setting chrome options, there is an "on startup" section. Click the "Open the following pages" option and then the "Use Current Pages" Button. A list of the 10 tabs will show in the list. Close the options tab.
To vote: Start from the 1st tab - Vote and click Next Category - don't bother waiting for the page to load - move on to the next tab. If you are a shortcut key type person, type Ctrl-Tab to move to the next tab. Vote again for each tab. When done, CLOSE chrome then re-open chrome - it will load with all 10 tabs ready to vote. Repeat as many time as you want.
I only had to login to VH1 the first time - it has been remembering me since then.

Go Behind the Music with Adam Lambert On...
The Hollywood Gossip 7.11.11 4:13 PM by Hilton Hater
Believe it or not, VH1 was not always known for embarrassing reality shows.
The network will actually return one of its more popular, innovative programs on June 29, when Behind the Music premieres with an episode dedicated to Missy Elliott.
We're most excited about the August 10 installment, however. On that date, Adam Lambert will be featured, as his official site teases "never-before-seen home video footage, interviews with family, friends... and a sneak peak into the studio while working on his second studio album."
(Video of "Soaked" from AOL Session at bottom of article)
Link:
www.thehollywoodgossip.com/2011/07/go-behind-the-music-with-adam-lambert-on/
FYE and WWFM still in VH1 Top 100 --
over 1 year later...
But what about IIHY ????
The Hollywood Gossip 7.11.11 4:13 PM by Hilton Hater
VH1's Top 100 Videos of 2011... So Far: FYE at #89 and WWFM at #55, with the top 50 still to be revealed
on.vh1.com/nZ8gHm


VH1′s Top 100 Videos of 2011 … So Far
As we parallel park into July and officially hit the curb of this year's halfway point, it's time to take a quick look back at what the past six months have taught us. Not conventional life lessons, however; we're talking about stuff that's a little bit less intense and also involves YOU! That's right, in the first installment of our Top 100 Videos of 2011… So Far, we're spilling the beans on the #100-51 most clicked-and-viewed videos on VH1.com. You'll see that this piñata-like list of content contains tasty treats and slippery surprises alike! We've got brand-new videos that just recently launched, some VH1 Classic leaning clips (hey there, Megadeth), repeat offenders, and of course, effervescent, essential vids from the music video cannon. So take a look at the first fifty videos below and don't forget to come back later this week as we continue on our quest to discover what artist snags the #1 spot!
55. Adam Lambert, "Whataya Want From Me"
89. Adam Lambert, "For Your Entertainment"

Q3 note: IIHY was not #51-#100 and should be in the Top 50. We'll see.
Surprise: Adam has a lot of fans!
jessFCKNbest LOL ☺
Dang Adam Lambert has a lot of fans, that pic with him and my cousin got 11,000 views LOL!
12 Jul
jessFCKNbest LOL ☺
My 10 yr old cousin got to sing with Adam Lambert ...her outfit is too grown!
lockerz.com/s/118757857
9 Jul
While we wait……
The Let's "Put Adam in the News" Game
7.13.11 by Q3
RCA Promo has told us that we need to be patient and assured us that it will be worth it.
OK, RCA Promo – ball is in your court – I will be patient. You need to mark sure that I get a ton of Adam when this record is done. And my definition of a ton is that I want to be buried in Adam news and unable to keep up.
In the meantime…
Let's Play "Put Adam in the News"

The game is simple. Take any Adam story and connect it to Adam. The more elegant, twisted and bizarrely connected you make it the better.

A couple of examples:Example 1: Not elegant, not twisted and not bizarre (well maybe bizarre is a bad way). No chance of winning the "you can't buy it prize"
Story:
'Pray away the gay': Michele Bachmann and her husband accused of using fake treatments to 'cure' gay people
LInk:
www.dailymail.co.uk/news/article-2013903/Michele-Bachmann-husband-accused-using-fake-treatments-cure-gay-people.html#ixzz1RxFMr800
Adam connection:
Adam is gay.
Example 2: Elegant, twisted and bizarre (in a good way). Might have won the "you can't buy it prize" if I hadn't wasted it on an example!Story:
Sherwood Schwartz, creator of Gilligan's Island and Brady Bunch is dead. (see below)
Adam connection:
Tina Louise, the "Gilligan's Island" actress, tweeted about Sherwood's passing "Sherwood Schwartz brought laughter and comfort to millions of people. Gilligan's Island was a family. He will be in our hearts forever."
In 1991, Tina completed the filming of "Johnny Suede", in which she co-starred with Brad Pitt. The movie marked the debut of director Tom DiCello, and won the 1992 Gold Leopard award for best picture at the 44th International Film Festival at Lorcano, Switzerland.
Tom DiCello directed "When You're Strange, a 2009 documentary about the life of The Doors. It is the first time makes material from Jim Morrison's 1969 film fragment HWY: An American Pastoral publicly available. This documentary first screened at the Sundance Film Festival on January 17, 2009.
A rockumentary/behind-the-scenes film based on The Zodiac Show was presented for consideration to the Sundance Film Festival.
Adam Lambert is in The Zodiac Show documentary.
The "you can't buy it prize"
Post your "Put Adam in the News" entry in the thread. I will pick 1 and only 1 winner at midnight. They winner will get to do something no one but me has ever gotten to do – select the Adam photo for the Adamtopia New & Info banner!!
The decision of the judge (me) will be capricious, arbitrary, completely subjective and final.
Upcoming Events
Check the Adamtopia calendar for more events and links to more info.
July or so: Behind the scenes video of Adam #2 recording sessions to be released.
7.29.11 Adam performs at the St. Agathe en Feux Festival in Sainte-Agathe-des-Monts, QC, festival concert.
ATop Quebec concert thread:
www.adamtopia.com/index.cgi?board=adam2performances&action=display&thread=321
7.29.11 Adamtopia Masked Ball
Why: Adam performs at the St. Agathe en Feux Festival in Sainte-Agathe-des-Monts, QC, festival concert.
Attire: Masked ball – dress accordingly. A selection of masks will be provided.
Refreshments: Expect an extravagant array of drinks and Quebecoise cuisine.
8.10.11 Adam Lambert "Behind the Music" premieres on VH1.
8.13.11 Equality California will honor singer and songwriter Adam Lambert at this year's annual Los Angeles Equality Awards
Link:
www.sdgln.com/causes/2011/07/05/adam-lambert-facebook-be-honored-los-angeles-equality-awards
8.14.11 TAPING Adam at the Adam at the VH1 Do Something Awards.
8.18.11 BROADCAST Adam at the VH1 Do Something Awards. 9:00PM EDT/PDT
Link:
www.vh1.com/shows/events/do_something_awards/2011/
Around 8.30.11 New single released
October or November 2011 (Date and Time TBA) MTV Talk@Playground with Adam and SKINGRAFT'S Johnny Cota. Will be broadcast internationally.
Around 11.7.11 Adam's second album releasedEvery Saturday from New Zealand
-- Adam Lambert Hour -- Live 7:00PM EDT US.
Link:
www.adamlamberthour.co.nr/
Check out the ALH page for podcast of previous shows.
This is the only weekly Adam Lambert show in the world.
Help Keep Adamtopia a Great Place
Adamtopia is a labor of love -- meaning no one makes any money on this site. So our staff are all volunteers. Be nice to the moderators, they make this forum a pleasant place
We don't have a lot of rules here but they are essential. Just as a reminder...
The Adamtopia guidelines are quite simple. To be a member of Adamtopia...

1. You must be an Adam fan.

2. You must be respectful of other members. Feel free to express you opinion, but be glitterier and golden.

3. Strive to be funny, entertaining or informative when you post. Avoid posting something that has already been posted.

4. Never question anyone's right to post, the appropriateness of a topic or define the proper what for an Adam fan or Adamtopia Member to behave. Let the moderators do their job.

More rules will be added if the need arises but, if everyone follows there these rules, we will not need a lot of rules.


Comment or read more here: adamtopia.com/index.cgi?board=guidelines&action=display&thread=10#ixzz1EwvDLF8D
OT NewsSherwood Schwartz dies
Sherwood Schwartz, who created "Gilligan's Island" and "The Brady Bunch," two of the most affectionately ridiculed and enduring television sitcoms of the 1960s and '70s, died on Tuesday in Los Angeles. He was 94.
Mr. Schwartz's work may have been seen as lighthearted entertainment, but some scholars of popular culture took it very seriously. David Marc and Robert J. Thompson, authors of "Prime Time, Prime Movers," in which they advance an auteur theory of television, considered Mr. Schwartz an innovator who made a "surgical strike into the national psyche."
Describing the advent of "Gilligan's Island," which told the story of seven very different castaways stranded on a desert island, they wrote, "Schwartz was pioneering a dramatic matrix built upon the emerging cultural concept of the 'support group': a collection of demographically diverse characters thrown together by circumstance and forced to become an ersatz 'family' in order to survive."
Mr. Schwartz, in a 1996 interview, said that he had always planned the series as a social statement, the message being, "It's one world, and we all have to learn to live with each other."
Link to NY Times article:
www.nytimes.com/2011/07/13/arts/television/sherwood-schwartz-dies-at-94-created-gilligans-island.html?pagewanted=1&_r=1