Post by Q3 on Jul 16, 2011 0:21:48 GMT -5
Adam in New York 7.14.11
Adam talks about new Album to
Japan In Rock Magazine
Source of partial translation: riley1877 Riley M Adam talks about his album
bit.ly/pcNzmD
Japan In Rock magazine interview by Yuko Kato/INROCK, over the phone, June 28, 2011 (LA, USA)
Highlights:
- Adam will probably come to Japan next year
- He has been working on his second album for three months now
- He has already recorded 25 songs or so
- The album will probably be completed in October (or around that time)
Q3 note: Finish in October = November release.
- The second album will be more "personal" (not just about himself but about everyone)
- All the tracks of the second album will be the songs he wrote (he'll write all the songs)
- He's been able to spend a lot more time for this second album, both for writing the songs and recording the vocals
- The second album will be more realistic, closer to the earth (than FYE, which was kind of "in the universe")
- "Working with Christina Aguilera" was just a rumor, it's Adam Levine who's been working with her
- About Adam Levine, Adam thinks Levine just didn't know the song (so no bad feelings). Fans might have over-reacted a little, but he appreciates their being supportive.
- FYE was really theatrical so GNT was theatrical, homage to glam-rock in the 70s, 80s, a love letter to his favorite artists such as David Bowie or Boy George. The second album will be more current, rather than retro.
- Being asked about Adele, he says that his album will have more electronic sound than hers. What she inspires him most is the way she reminds him that it's "voice" that's the most important. She just proves it by her singing. That's what people want from her. She doesn't need any sound-effects, beats, or special synthesizers to reminds him of the strength of a song. She does it by valuing the emotions in her voice, the quality of it, the atmosphere of it. Her voice is incredible.
- In response to the interviewer's "Oh, everyone thinks YOUR voice is incredible", he says "thank you".
LambritsUK the lambrits
RT @toamour: IN ROCK vol.332 ADAM LAMBERT 3 pages twitpic.com/5qbb1p twitpic.com/5qbb1g twitpic.com/5qbb2i twitpic.com/5qbb1k
The Do Something Awards
Voting and Fund Raising
Weekend-Long Marathon/Party
Posted by: Starlighter #80 Friday, July 15, 2011 - 08:10 on AdamOfficial.com
The Starlighters are stepping outta the box (our thread) this weekend to host a voting/fund raising party for the Do Something Awards! We hope everyone will join us in celebrating Adam's nomination. We would also like to try to garner more votes for Adam and spread the awareness of the various charites that he supports.
Two of Adam's preferred charities, DonorsChoose and Charity:Water, have set up special donation pages to celebrate his Do Something Award nomination. Please donate to one or both IF you can. If you can't, no problem...you can still help by tweeting the links (twitter will automatically shorten the URLs) and Facebooking them
DonorsChoose
tinyurl.com/5roam7a

Charity:Water
mycharitywater.org/p/campaign?campaign_id=17279
In addition, we have organized a
twitter trending campaign
. If you have a twitter account, you can participate in the campaign by using the hashtag #AdamDoSomethingBert in all your tweets.
And of course, continue to VOTE VOTE VOTE for Adam to win!
www.vh1.com/shows/events/do_something_awards/2011/music-artist/
Thank you so much for participating.
Link to AdamOfficial.com post:
www.adamofficial.com/us/node/2028185
Great Adam caricature!!!
Created by Jonnathan Sanchez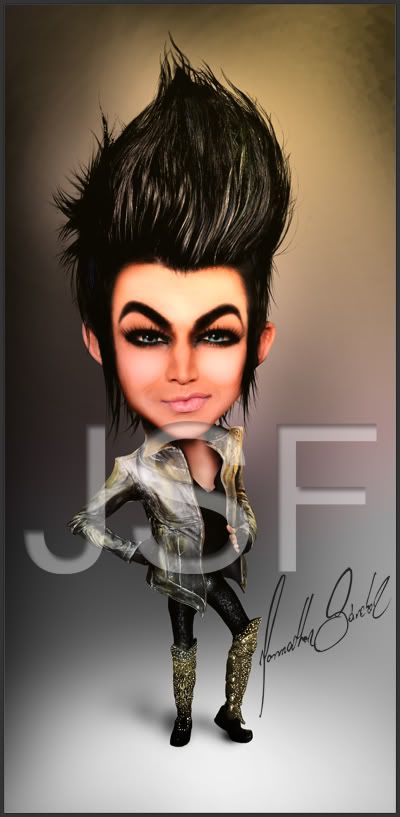 Buderschnookie posted this version without the watermark but with full attribution to Jonnathan Sanchez. It is such a great piece of art that I decided to post it both ways.
Link to his site:
jonnathansanchez.deviantart.com/art/Adam-Lambert-Caricature-168162210
More Adam News
robininny Robin
by hooplaPF
@
@hooplapf Yes! Got vid! RT: hooplaPF did ya happen to see @adamlambert @officialnikka show last night??
-------------
@cecycat1 Cecy :
Look at the new avatar of The Manhattan Monster Bar!
www.facebook.com/pages/The-Manhat​tan-Monster-Bar/197191882951
-------------
MixPhiladelphia MixPhiladelphia by GlamFanNation
So, Hottest Beach Body? @justinbieber @adamlambert @jordanknight @donniewahlberg @itsthesituation VOTE:
ow.ly/5Fg0O
-------------
Adam is featured in this hairstyles blog:
www.thehairstyler.com/mens-hairstyles/alternative
-------------
Tweet connects Adam to Project Runway
Adam made Nina Garcia #FF (Follow Friday) Tweet and it got retweeted by Marie Claire Magazine
marieclaire Marie Claire
xoxo RT @ninagarcia: #FF @adamlambert @amandahearst @sergiokletnoy @marieclaire @zrobertsrassi @dolcegabbana @michaelkors @projectrunway...
27 minutes ago
Nina Garcia is the Fashion Director for Marie Claire and she is also one of the main judges on Project Runway. So a tweet from Nina and the mag are basically one and the same. Doubt Adam is doing a photo shoot for her magazine. But a photo shoot for the album, while he is there, is a very good guess. He was so smart to get out of LA this weekend!!
Upcoming Events
Check the Adamtopia calendar for more events and links to more info.
July or so: Behind the scenes video of Adam #2 recording sessions to be released.
7.29.11 Adam performs at the St. Agathe en Feux Festival in Sainte-Agathe-des-Monts, QC, festival concert.
ATop Quebec concert thread:
www.adamtopia.com/index.cgi?board=adam2performances&action=display&thread=321
7.29.11 Adamtopia Masked Ball
Why: Adam performs at the St. Agathe en Feux Festival in Sainte-Agathe-des-Monts, QC, festival concert.
Attire: Masked ball – dress accordingly. A selection of masks will be provided.
Refreshments: Expect an extravagant array of drinks and Quebecoise cuisine.
8.7.11 Adam Lambert "Behind the Music" premieres on VH1 Sunday, August 7 at 10:00 PM ET/PT.
Link:
www.vh1press.com/mid-season-schedule-changes-for-vh1's-"behind-the-music"/
Select full episodes of "Behind The Music," as well as extended interviews and footage will be available at BehindTheMusic.VH1.com.
8.13.11 Equality California will honor singer and songwriter Adam Lambert at this year's annual Los Angeles Equality Awards
Link:
www.sdgln.com/causes/2011/07/05/adam-lambert-facebook-be-honored-los-angeles-equality-awards
8.14.11 TAPING Adam at the Adam at the VH1 Do Something Awards.
8.18.11 BROADCAST Adam at the VH1 Do Something Awards. 9:00PM EDT/PDT
Link:
www.vh1.com/shows/events/do_something_awards/2011/
Late August 2011 – Date TBD, unconfirmed – Adam will be a guest judge on Project Runway. His episode was taped on 7.14.11.
Around 8.30.11 New single released
October or November 2011 (Date and Time TBA) MTV Talk@Playground with Adam and SKINGRAFT'S Johnny Cota. Will be broadcast internationally.
Around 11.7.11 Adam's second album releasedEvery Saturday from New Zealand
-- Adam Lambert Hour -- Live 7:00PM EDT US.
Link:
www.adamlamberthour.co.nr/
Check out the ALH page for podcast of previous shows.
This is the only weekly Adam Lambert show in the world.
Help Keep Adamtopia a Great Place
Adamtopia is a labor of love -- meaning no one makes any money on this site. So our staff are all volunteers. Be nice to the moderators, they make this forum a pleasant place
We don't have a lot of rules here but they are essential. Just as a reminder...
The Adamtopia guidelines are quite simple. To be a member of Adamtopia...

1. You must be an Adam fan.

2. You must be respectful of other members. Feel free to express you opinion, but be glitterier and golden.

3. Strive to be funny, entertaining or informative when you post. Avoid posting something that has already been posted.

4. Never question anyone's right to post, the appropriateness of a topic or define the proper what for an Adam fan or Adamtopia Member to behave. Let the moderators do their job.

More rules will be added if the need arises but, if everyone follows there these rules, we will not need a lot of rules.


Comment or read more here: adamtopia.com/index.cgi?board=guidelines&action=display&thread=10#ixzz1EwvDLF8D