Post by Q3 on Jul 17, 2011 0:21:04 GMT -5
Photo from
WWW.RJDaae.DeviantArt.com
AdamLambert Twitter party?!
7.17.11
ASCAP has a new listing for a song cowritten and performed by Adam Lambert -- "Mind Control."
www.ascap.com/ace/search.cfm?requesttimeout=300&mode=results&searchstr=883191277&search_in=i&search_type=exact&search_det=t
,s,w,p,b,v&results_pp=25&start=1
AdamLambert Twitter party?!
7.16.11 around 3:00PM PDT
Q. remavineyard What are you doing in NYC?
ADAM: all sorts of bizzness :D
Q. HannaBec did u get a hair cut? :D)
ADAM: I have to get one about every 3 weeks – I'm a grower
Q. mustthinkagain what is your hair colors called?
ADAM: Acid Wolf
Q. MarinaAL there's rumors that you're pregnant, can you confirm this?
ADAM: I didn't want to jinx anything. Still in first trimester. Shhh
Q. SeleneBean How does rock fit in with more of the electronic/pop sound you're going for? I have a hard time trying to "hearing" it. Explain
ADAM: I honestly don't believe in limiting myself to one genre. All about throwing a few influences together like fusion.
ADAM: at the end of the day- a great song is a great song.
Q. Stefhanie88 What do you think of the new season of True Blood so far?

from a fellow trubie.<3
ADAM: i love it!! Diggin the witches.
Q. mari_guerra what will be your next hair do?
ADAM: I dunno girl… I don't plan these things, just go w an impulse. :D
Q. Hello_Caitlin I Love You! Fave Article Of Clothing At The Moment? Or What Are You Wearing Right Now?
ADAM: dem Rick Owens boots.
Q. AraneLambert in yur next tour, are you going to sing some songs of your first album?
ADAM: most likely. :D
Q. Jeannie_Glitter if u love someone & u already have a gf/bf do u give up ur gf/bf & date the person u love or keep the gf/bf??
ADAM: you gotta follow your heart. The best relationships are based on honesty.
Q. agathadams do you sometimes wish you had more Gay "allies" in the music business?
ADAM: while there isn't a large presence in the music biz, I honestly don't think it should matter. It's about MUSIC
Q. EmmaLambert_ Kitten do you like kitties?
ADAM: more of a puppy guy
haha my favorite songs are soaked and aftermath

what is yours?
ADAM: @adamshart what was your LEAST favorite song from the last album?
Q. eclair_unfbert what do you think bout your goverment?
ADAM: not a politician. Not an area I feel comfortable using my platform for. ….
Q. AnnieWT have you narrowed down your ideas for next album title?
ADAM: oh yeah. I have it picked. :D
Q. lionhearted_ where did you get your tan?
ADAM: my backyard. And the versa SpAdam: Lol
Q. mmaijju could you say "moi" to me :D
ADAM: moi
Q. PinkGlamMonster So do you have a tank top fetish these days? :D
ADAM: not really- it's summer. It's hot. :D
Q. elglamlala how long do you want to be in show business?

ADAM: this is what I was born to do. Always.
Q. RamonaPal Do you like milk with cocoa? :D OR RamonaPal A clue about your new album ??
ADAM: It's good
Q. OblaLovesAdam worn any sneakers lately?
ADAM: only when exercising.
Q. Seren_14 Seren if you weren't a singer, what would you be?
ADAM: prob a director or designer
Q. LadyPricelessN have any addictions?
ADAM: yeah a few. Lol
Q. UberTrish Do you ever regret fashion decisions?
ADAM: someone's I look back and go thru a brief period of denial and grief. Buy regret? Never.
Q. anthrogeekPF What about FUNK?? Any funky fresh beats coming??
ADAM: Funk. Def
Q. Glambert4everAL how would you describe your life right now? what do you do everyday?
ADAM: I prepare. I create. I love.
Q. TeliseLambLusk Sooo.. Pajammy Jam Jams or Sleeper in the Raw? Inquiring minds need to know!
ADAM: au natural under the covers.
Q. kinkykiedis Yay you came back, can I ask u what your doing rn or am I being to nosy, if so sorry. Im not normally :D
ADAM: I'm tweeting.
Q. JadenLambert plz check out this picture an amazing artist friend of mine did,, shes amazing&this pic is sickdarkcat6.deviantart.com/art/I-WANT-YOU…
ADAM: wow that's awesome!!
Q. Mistyglmbrtjail If you could interview anyone, dead or alive, who would it be?
ADAM: Freddie Mercury, Cleopatra
Q. lifetweets_ do you & @perezhilton hang out alot?
ADAM: nope
Q. TheLambertLuvva Do you believe in the occult?
ADAM: good question. I'm fascinated by it. I find it sexy.
Q. ArchiesCrush Do you like the idea of the glowsticks for the next tour being PURPLE? :D @glows4adam
ADAM: yes. Purple would be awesome. :D
Q. baileymayhugh zebra print or houndstooth?
ADAM: def zebra
Q. Zsanelia What's your opinion about sex with girls? Do you also like this?
ADAM: i think everyone should try something at least once.

Q. glambert1125 current favorite colour?
ADAM: black/gray
Q. jelena296 does it ever bother you that you sometimes have to share your personal thoughts with millions of people [through your music]?
ADAM: it's a great opportunity. Not a duty. I choose to. :D
6 hours later – around 9:00PM PDT
[/i]
ADAM: This whole carmegeddon thing is bull. hah
ADAM: Back in Hollywood!

***
In His Own Words
7/17/2011 by
NoAngel
[F]or this album, I wanted it to be much more personal, something that would allow people to know more about who I am inside… From within me, ideas and song lyrics have been pouring out, so as it stands now this album has become a personal one.
~ Adam Lambert, from INROCK magazine August 2011 interview *
In his recent interview with INROCK, Adam revealed that he has written most of the 25 or so songs he's recorded for his next album. I think it's fair to say that fans are thrilled with this news. Writing songs means that Adam will have a greater share of profits from song sales. It also means that he will gain cred as a songwriter and quiet those critics who argue that Adam is
just
a singer and not a "real" musician.
There is something even more important about Adam writing his own songs—it gives Adam power. The power that a person has when he speaks his truth and has the platform to be heard. Words are incredibly powerful, whether they are spoken, written, or sung. They can create and reveal emotions. They can incite action. They can change lives, and they can reveal a life, a soul, a heart. Realness.
Adam knows he has a fantastic voice, but if that was all that mattered to him, he could have pursued theater until he achieved the success he deserved. For FYE, Adam was given songs by many talented writers, and he could have gone the same route for his sophomore album. Yet he wanted more than to sing other people's feelings, and he knew that this meant taking pen in hand before stepping up to the microphone.
Adam is both a creative spirit and a control freak. We all know how he stifled he felt doing musicals when he didn't have the freedom to fully express himself and reinvent songs and melodies. That creative freedom was important enough to him that he took a chance on AI and accepted the baggage that would come along with it. With FYE, Adam finally had an album of his own and label support to select and interpret its songs. Yet he only had time to co-write a handful, and none of his singles were his own. While Adam was always enthusiastic about his official radio singles, his special delight in Aftermath, a song he co-wrote with his friends, was palpable. He clearly had both deep affection for and a strong connection to this song. Reinvented acoustically, it became one the most heartfelt songs of GNT. I love that he made this song happen as a remix and then rolled up his sleeves to trend it with us on Twitter when it was released. We've spoken of Adam's love and loyalty to his friends and family and even his clothes. This love and loyalty obviously extends to his own creations.
It takes courage to do what Adam is doing—reflecting, analyzing, and capturing his thoughts and feelings in words. Exposing himself and making himself vulnerable. It takes even more courage to take those very personal words and sing them out loud for both fans and strangers to hear. But Adam has never lacked courage, and I have confidence that his risk will be rewarded.
Adam wants us to hear more than the notes of his beautiful voice. He wants us to hear
him
. What he thinks and feels, whether it's smart or silly or funny or sad. In
Lynne's
eloquent words, Adam wants "the joy of being understood, the power of human connection, … the shared moment."
I can't wait to listen.
*Translation of article by terraj
***
Adam Lambert is the "It Boy"!!
July 15, 2011 Garotedefrife.com (originally in Portuguese)
Celebrity Itboy | Adam Lambert
And Celebrity Itboy this week we have one of the younger guys montadões current pop music, Adam Lambert! You were only used to see guys with baggy pants and tennis shoes (up to Justin Timberlake) , since then shows that Adam takes the performative almost look out of the stage and red carpets. Adam has an entire visual identity rebellious, strong makeup, leather pants, gloves, black enamel rings, skull and a mighty big hair.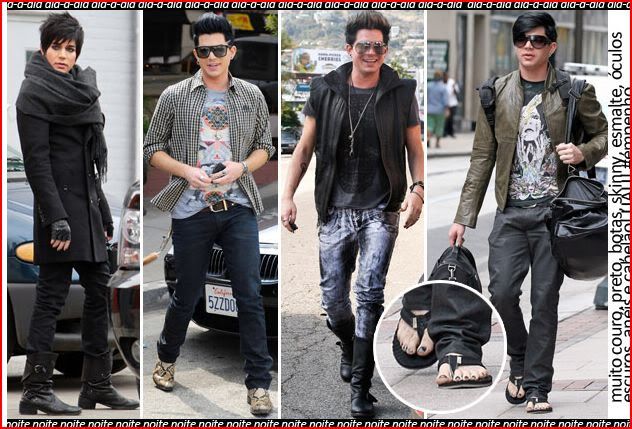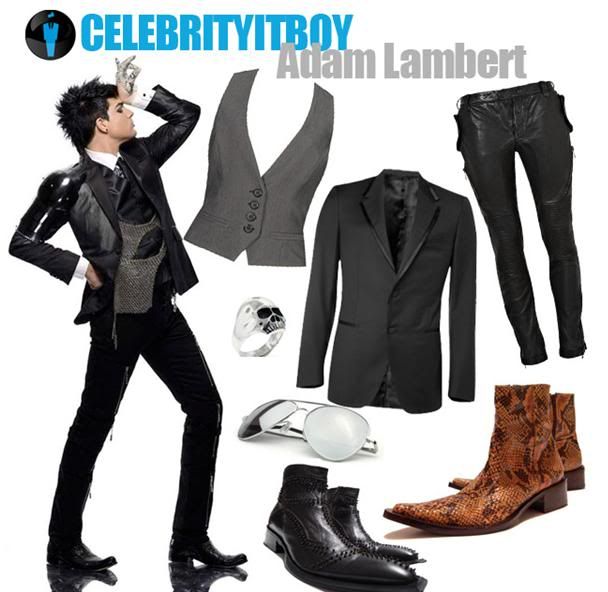 Read more:
www.garotodegrife.com/2011/07/celebrity-itboy-adam-lambert.html
The Do Something Awards
Voting and Fund Raising
Weekend-Long Marathon/Party
Posted by: Starlighter #80 Friday, July 15, 2011 - 08:10 on AdamOfficial.com
The Starlighters are stepping outta the box (our thread) this weekend to host a voting/fund raising party for the Do Something Awards! We hope everyone will join us in celebrating Adam's nomination. We would also like to try to garner more votes for Adam and spread the awareness of the various charites that he supports.
Two of Adam's preferred charities, DonorsChoose and Charity:Water, have set up special donation pages to celebrate his Do Something Award nomination. Please donate to one or both IF you can. If you can't, no problem...you can still help by tweeting the links (twitter will automatically shorten the URLs) and Facebooking them
DonorsChoose
tinyurl.com/5roam7a

Charity:Water
mycharitywater.org/p/campaign?campaign_id=17279
In addition, we have organized a
twitter trending campaign
. If you have a twitter account, you can participate in the campaign by using the hashtag #AdamDoSomethingBert in all your tweets.
And of course, continue to VOTE VOTE VOTE for Adam to win!
www.vh1.com/shows/events/do_something_awards/2011/music-artist/
Thank you so much for participating.
Link to AdamOfficial.com post:
www.adamofficial.com/us/node/2028185
More Adam News
I think this is Project Runway confirmation
There is an AdamOfficial.com thread asking for confirmation on the Project Runway rumor. Ed's response is a wink. Since he seems to like to say "no" or "not that I've heard of.". I take a wink as a "I can't say".
www.adamofficial.com/us/node/2027919
-------------
Liam we love you! Keep playing Adam's music and we'll keep listening!
Liam McEwan played a song that was released to radio from the "Take One" album. As he explained below, he did not know the history of the album. A few very vocal fans overreacted. Thankfully, many more fans responded to his message with tweets of support.
Here is Liam's Tweet:
@liammcewan: Regarding me playing a song from "Take One" on my show this morning: I have received a lot of feedback about my sho...
jmb.tw/444k
Created 7.17.11 by LiamMcEwan
Regarding me playing a song from "Take One" on my show this morning: I have received a lot of feedback about my show this morning, mainly about me playing "Did You Need It".
I have heard that many people have chosen to never listen to my show again because of this.
Thank you for giving me some insight into the history of the album. After hearing what you had to say, I have deleted the "Take One" album from the station's database. That will be the last time a song from that album is played on my show. I was never aware of the story behind the album. Thanks for understanding!

So I have a question for these "righteous" fans? Walmart, Target, Amazon, iTunes, Best Buy, etc. sell "Take One" – do you boycott them too? (I am not endorsing this "bastard" album, just endorsing rational and consistent behavior.)
-------------
More of the Japanese INROCK magazine interview, as translated by terraj:
terra_zepheadTerra ƒeƒ‰
I've not yet translated the last part of INROCK i/w but I've posted the 2nd (best part)
terraj.livejournal.com
ETA: Here is the last part --
Terra: I've uploaded the final part of my interview translation:
terraj.livejournal.com/
Here is one great Q&A:
I: Is that so? This time, you didn't want to have a hard deadline I guess?

A: Yeah. This time, perhaps you could say that it's a matter of allowing things to take their own course. But really, it's most important that the music is fantastic, thus there hasn't been a hard deadline. And which is why I haven't been rushing on the album, but instead, have been taking my time to bring in elements that I think are important, which will enable me to make fantastic songs.
This is a do not miss read -- check out the whole translation.
Upcoming Events
Check the Adamtopia calendar for more events and links to more info.
July or so: Behind the scenes video of Adam #2 recording sessions to be released.
7.29.11 Adam performs at the St. Agathe en Feux Festival in Sainte-Agathe-des-Monts, QC, festival concert.
ATop Quebec concert thread:
www.adamtopia.com/index.cgi?board=adam2performances&action=display&thread=321
7.29.11 Adamtopia Masked Ball
Why: Adam performs at the St. Agathe en Feux Festival in Sainte-Agathe-des-Monts, QC, festival concert.
Attire: Masked ball – dress accordingly. A selection of masks will be provided.
Refreshments: Expect an extravagant array of drinks and Quebecoise cuisine.
8.7.11 Adam Lambert "Behind the Music" premieres on VH1 Sunday, August 7 at 10:00 PM ET/PT.
Link:
www.vh1press.com/mid-season-schedule-changes-for-vh1's-"behind-the-music"/
Select full episodes of "Behind The Music," as well as extended interviews and footage will be available at BehindTheMusic.VH1.com.
8.13.11 Equality California will honor singer and songwriter Adam Lambert at this year's annual Los Angeles Equality Awards
Link:
www.sdgln.com/causes/2011/07/05/adam-lambert-facebook-be-honored-los-angeles-equality-awards
8.14.11 TAPING Adam at the Adam at the VH1 Do Something Awards.
8.18.11 BROADCAST Adam at the VH1 Do Something Awards. 9:00PM EDT/PDT
Link:
www.vh1.com/shows/events/do_something_awards/2011/
Late August 2011 – Date TBD, unconfirmed – Adam will be a guest judge on Project Runway. His episode was taped on 7.14.11.
Around 8.30.11 New single released
October or November 2011 (Date and Time TBA) MTV Talk@Playground with Adam and SKINGRAFT'S Johnny Cota. Will be broadcast internationally.
Around 11.7.11 Adam's second album releasedEvery Saturday from New Zealand
-- Adam Lambert Hour -- Live 7:00PM EDT US.
Link:
www.adamlamberthour.co.nr/
Check out the ALH page for podcast of previous shows.
This is the only weekly Adam Lambert show in the world.
Help Keep Adamtopia a Great Place
Adamtopia is a labor of love -- meaning no one makes any money on this site. So our staff are all volunteers. Be nice to the moderators, they make this forum a pleasant place
We don't have a lot of rules here but they are essential. Just as a reminder...
The Adamtopia guidelines are quite simple. To be a member of Adamtopia...

1. You must be an Adam fan.

2. You must be respectful of other members. Feel free to express you opinion, but be glitterier and golden.

3. Strive to be funny, entertaining or informative when you post. Avoid posting something that has already been posted.

4. Never question anyone's right to post, the appropriateness of a topic or define the proper what for an Adam fan or Adamtopia Member to behave. Let the moderators do their job.

More rules will be added if the need arises but, if everyone follows there these rules, we will not need a lot of rules.


Comment or read more here: adamtopia.com/index.cgi?board=guidelines&action=display&thread=10#ixzz1EwvDLF8D