Post by Q3 on Nov 6, 2011 23:35:23 GMT -5
The Show Must Go On
Adam joins Queen for one adamazing night!!
11.7.11 by Q3
Freddy must be proud tonight. Queen played the closing number at the EMAs last night with a special, one-night-only lead singer – Adam Lambert. And together they brought back the full spirit of Queen.
It was not your typical tribute to a classic rock artist. You know, four "superstar" singers each singing a part is a mish-mosh medley of greatest hits. Rather it was an all too brief mini-concert by a great rock band with a special guest frontman who was so much a part of the band he was not even announced separately.
For one brief moment, it was like Freddy was alive again. There was not a Freddy impersonator on the stage. But the spirit was there. The passion, the energy, the clarity of the vocals.
adam_pictures adam-pictures.com
Adam and Queen 49. twitpic.com/7bn97e
After the performance, Adam sent this message to the Twitterverse:
@adamlambert Adam Lambert
What an enormous honor to sing w QUEEN! I could feel the spirit of Mercury alive on stage tonight! Thank u Brian and Roger and crew. LOVE
Many people watching the performance did not even known who the singer was but they will not need ask again.
And even many people who did not know who it was or who had preconceived, unfavorable notions about Adam Lambert, left the show with a new-found respect for Adam.
The Performance

kinkykiedis: Found a HD version of tonights medley and edited just right
26 seconds ago
Uploaded by violetglitz on Nov 6, 2011
ATop Review
11.7.11 by Cassie
"But it's been no bed of roses. No pleasure cruise. I consider it a challenge before the whole human race, and I ain't gonna lose! We are the champions."
Adam Lambert burst onto the national stage in the 2009 season of Idol. An example of how talent can be discovered, molded, and created by the program, and then, go on to a successful recording career. ...... NOT!
Adam's whole life, since the age of ten, has been focused on being a performer and artist. He studied his craft for years, he pounded the pavement, he knocked on hundreds of doors which were mostly slammed in his face. He was undaunted. He continued to build his voice, build his performance skills, build his knowledge of music of all kinds. He had the talent, he had the training, he had the experience, he had the vision, he had the determination and perseverence.
At the EMA awards show on November 6th, Adam dug down deep and called on everything in his impressive arsenal and gave us a quintessential performance. This is not an emerging artist. This is not an effemeral pop singer here today and gone tomorrow. What we witnessed, what we heard, what we saw, was Adam claiming his place as a world class performer with confidence, skill and power.
The vocals were amaaaazing. He used all his technique, all his knowledge of his body, and produced a sound that was strongly influenced by his classical training and background. It was much more than singing the right pitches, hitting the right notes. The sound evoked the power and finesse of an opera tenor, while modifying it to fit the classic rock numbers. His articulation was crystal clear. His attack, his subtle bending of notes and phrases gave the performance the emotions inherent in the songs.
He claimed the stage with his posture, his presence, his prowling. At the same time, his performance was in service to the tribute to Queen, never elevating himself above the song or the members of the band. He started his ethereal vocals in shadow, as if saying, "Who I am is not important. What I am singing, what we are creating, what we are paying homage to is key."
He threw the focus repeatedly to Brian May, encouraging him, acknowledging him, egging him on, enticing him onto the catwalk with him, leading him out front to his fans. He at once threw himself into the performance with total abandon and fearlessness, subsuming who he was into the greater total of what was being created. Yet, by doing that, and by doing it so masterfully, he was also being quintessentially himself. I do believe that only Adam Lambert could have accomplished that performance that night.
Adam has arrived. Adam has claimed his power and his place. It is magnificent to see and hear.
Link:
adamtopia.com/index.cgi?board=daily&action=display&thread=549&page=141#ixzz1czoLeZDu
The Press

Adam Lambert: MTV EMAs 2011 Red Carpet
JustJared 11.6.11 6:00 PM
Adam Lambert arrives in style at the MTV Europe Music Awards 2011, held on Sunday (November 6) at the Odyssey Arena in Belfast, Northern Ireland.
Link:
justjared.buzznet.com/2011/11/06/adam-lambert-mtv-emas-2011-red-carpet/
MTV EMAs: Adam Lambert Performs With Queen
The Hollywood Reporter 3:22 PM PST 11/6/2011 by Shirley Halperin
The "American Idol" alum, who has long cited Freddie Mercury as a major influence, filled the late frontman's big shoes for a three-song medley.
Queen guitarist Brian May performed with Lady Gaga at the 2011 MTV Video Music Awards back in August. Now, little more than two months later, he was back at another MTV event, the Europe Music Awards, playing with another global superstar: Adam Lambert.
To the delight and surprise of the 8,000 seated in Belfast's Odyssey arena, with many millions more tuning in on TV and online worldwide, Lambert appeared in silhouette for the first minute and a half of the nearly eight-minute performance with Queen, which featured a medley of hits, including "Show Must Go On," "We Will Rock You," and "We Are the Champions."
Wearing an all-black leather ensemble accented by a long trench-coat, Lambert sported a freshly buzzed haircut to close out the awards show. The American Idol season 8 runner-up has often cited Queen and its late frontman Freddie Mercury as a powerful influence on his own music and sound.
Lambert will soon be releasing his much-anticipated second album, due out early next year.
In May 2010, Queen announced that they had signed a new deal with Universal Music, after 40 years at EMI.
Link:
www.hollywoodreporter.com/news/adam-lambert-queen-mtv-emas-258086?utm_source=dlvr.it&utm_medium=twitter
People.com
Adam and Katy on the Red Carpet -
www.people.com/people/gallery/0
,,20542935,00.html#21077610
Adam Lambert Rejoins Queen For Brilliant "Surprise" MTV EMAs Performance
By Lyndsey Parker | Reality Rocks – 11.6.11
It is an indisputable fact that Adam Lambert's Season 8 finale collaboration with Queen stands as one of THE best "American Idol" moments ever. Even the members of Queen themselves were so impressed at the time by Adam's now-legendary performance, they reportedly invited him to join their band permanently. According to "Idol" lore, Adam politely declined their flattering offer--and it sure was a flattering one, considering that he was, for all intents and purposes, being asked to fill Freddie Mercury's mighty big platform boots--and he later said this was all a rumor. But it was easy to see how such a rumor had gotten started, since Queen and Adam seemed like a perfect fit. Anyway, Queen subsequently held an online talent search for a new singer, and Adam went on to become a solo superstar...but there was always the possibility that the two would someday join forces again. And this weekend, that possibility was thrillingly realized, as Adam stunningly sang with Queen's Brian May and Roger Taylor at the MTV Europe Music Awards.
This show-closing performance was supposed to be a surprise...but when Dan Kanter, guitarist for fellow EMAs performer Justin Bieber, tweeted Saturday from the EMAs rehearsals in Belfast, "Yo @adamlambert! Good to see you dude, can't wait to see you kill it w/ #Queen"...well, the combined mass Twitter population of Glamberts and Beliebers spread the word fast. (Dan later deleted his telltale tweet, but on the Interweb, nothing is ever really permanently deleted.) So, by the time the EMAs aired the following day, excitement among Adam fans--all waiting and yearning for another watershed moment as fabulous as Adam and Queen's 2009 "Idol" spectacle--was at a feverish high.
It was worth the wait. Ending the EMAs with a salute to Freddie Mercury, who was being posthumously and rightfully honored with the Global Icon Award, Adam and Queen blasted through a medley of "The Show Must Go On," "We Will Rock You," and "We Are The Champions"...and it was a performance of champions, indeed. My only MINOR complaints: There should have been maybe 17 more Queen songs, as this performance was way too brief; Adam was never announced by name (damn you, Selena Gomez!); and a video tribute to Freddie featuring speeches by fans and colleagues, like the one Amy Winehouse received, would have been a nice addition (hearing Adam TALK about Freddie would've been cool too).
But otherwise, this was just about perfect. THIS was an example of an awards show done right, people. The MTV VMAs may drum up headlines for Kanye West/Taylor Swift feuds and meatdresses, but this year, the VMAs' European equivalent just let real talent and great music leave the biggest impression and have the final word.
"What an enormous honor to sing w QUEEN! I could feel the spirit of Mercury alive on stage tonight! Thank u Brian and Roger and crew. LOVE," Adam tweeted after the show. It was fantastic and nostalgic to see Adam back with his old "Idol" finale partners, and while I am obviously glad he chose to forge his own musical path rather than join Queen on a permanent basis, I do hope this isn't the last time we'll see them share a stage. Considering how well they work together, I have a feeling that they will, they will rock us again, one day.
Link:
music.yahoo.com/blogs/reality-rocks/adam-lambert-rejoins-queen-brilliant-surprise-mtv-emas-001809495.html
Rock Legends Scoop Global Icon Award
They've sold 300 million albums, had sixteen number one albums and more than 40 years after they first formed, Queen's influence has never been stronger in pop music.
Tonight, the MTV EMA honoured long time legends Brian May, Roger Taylor, Freddie Mercury and John Deacon's illustrious career with the Global Icon award.
But while the '2011 MTV EMA' served up their fair share of gasp-worthy moments, the real surprise was saved for the end of the show – when the rock legends took to the stage with none other than Adam Lambert!
Triumphantly closing the ceremony by plundering their huge repertoire of greatest hits, Brian, Roger and Adam effortlessly served up a flamboyant musical medley including 'The Show Must Go On', 'We Will Rock You' and 'We Are The Champions' that would've made Freddie proud…
Link:
www.mtv.com.au/news/61c139e8-katy....hYTh-3A.twitter
Adam Lambert Joins Queen For Spectacular Performance At The 2011 MTV EMAs
Neonlimelight November 6, 2011 By TJ
So, remember when Adam Lambert performed with Queen on the season 8 finale of American Idol and rumors began flying that he'd become the band's new frontman? Adam went on to focus on his own successful career, but tonight (November 6) at the 2011 MTV Europe Music Awards, we got another peek at what an Adam-fronted Queen would look like as he joined the rock legends for a spectacular closing performance.
The performance was a high-powered medley of Queen classics, including "The Show Must Go On," "We Will Rock You," and "We Are The Champions."
Of course, no one can replace Freddie Mercury, but that's not what Adam was trying to do. He managed to simultaneously pay homage to Mercury by mostly staying true to the songs' original form and putting his own stamp on them… with sensational results, we might add.
Link:
neonlimelight.com/2011/11/06/video-adam-lambert-joins-queen-for-spectacular-performance-at-the-2011-mtv-emas/
MTV EMAs 2011: Queen Close the Night by Rocking Out With Adam Lambert
Before the lights were dimmed and the audience were sent home, Queen took the stage at 2011 MTV Europe Music Awards along with Adam Lambert, who has repeatedly cited the band as one of his inspirations in music. Their performance on the November 6 celebration was introduced by host Selena Gomez.
Brian May, Roger Taylor and the former contestant of "American Idol" kicked off their set by playing "The Show Must Go On". After a very brief break, they pumped up the crowd with another classic "We Will Rock You" and offered "We Are the Champions" before taking a final bow.
www.aceshowbiz.com/news/view/00045060.html?utm_source=twitterfeed&utm_medium=twitter
Adam Lambert Lends Voice to Queen for MTV Europe Music Awards Performance
Popstar.com
Singer Adam Lambert lent his vocals to the rock group Queen Sunday night at the MTV Europe Music Awards in Belfast, Ireland. Queen was honored with the Global Icon Award for it's legendary musical contributions, and in the absence of their late/great front-man Freddie Mercury, The Band asked Lambert to perform a medley of hits starting with "The Show Must Go On," followed by "We Will Rock You" and "We Are The Champions." Such a task would No Doubt be daunting for many a singer, but not for Lambert.
At the end of the day, he delivered.
The most notable thing about his performance was that Lambert did not make the slightest attempt to diminish Mercury's genius by trying to duplicate him. Instead, he infused his own brand of genius into the arrangement. It was an homage to one of Lambert's admitted heroes and a golden moment for he and his fans - perhaps for some Queen fans as well.
more...
www.popstar.com/News/Music/Article/182
Press Party
Adam Lambert steps into the late Freddie Mercury's shoes for a one-off performance
Vocal powerhouse Adam Lambert stunned crowds at tonight's 2011 MTV European Music Awards by stepping in as the frontman of iconic stadium rock outfit Queen.
The legendary band picked up the Global Icon Award earlier in the evening (November 6) and injected a new energy into their world famous songs by bringing the 'Whataya Want From Me' superstar out on stage with them for a medley of their best hits.
Link:
www.pressparty.com/pg/newsdesk/adamlambert/view/35336/
Posted on Atop
By pi an Adamtopia member
I've been unable to tear myself away from the computer most of the day rewatching the epic performance, except to watch it on my tv. It was so amazing and it's all been said by now, but I came across these comments at
www.fleckingrecords.co.uk/2011/11/wow-adam-lambert-rocks-the-emas-with-queen.html?#disqus_thread
and wanted to share..
Posted by Russ
"I'm old enough and lucky enough to have seen Queen in concert several times. My favorite band growing up. I'd heard about this guy Adam Lambert a little but didn't know much about him. When I heard he was going to sing with my favorite band, I thought it would be a disaster. Some kid who was trying to be another Freddie. But, I had to watch, it way my band.. They were great. But, I have to say, that kid was phenomenal. He knocked me off my self righteous pedestal He's not Freddie but I don't think he was trying to be. He has his own style and a voice like I've never heard before. Not Freddie, but just as good. I looked him up online and saw some of his other performances. He's really got talent. You can bet I'll be following his career from now on."
posted by Bren
"Adam and Queen go together like coffee and cream...getting richer with each note that was sung and played. It was an honour tonight to be present for this once-in-a-lifetime experience!
This is like a perfect redemption in many ways...
...there was no need to introduce Adam, he gave it all up to Queen, because that's what this tribute was about.
The audience gasped when they realized who was standing in the shadows and beginning to sing. Queen and Adam closed the show and were the last faces I saw as the end of the credits rolled by.
My Twitterfeed is full to overflowing with people who have not been the traditional Adam fan, and they are oozing good energy and wonderful words about his glorious performance with this iconic band.
Thank you, Brian May, for reaching out to Adam and for including him in this tribute to you and your fierce band. I've been a fan of Queen's music for years and I'm now a huge fan of Adam's music, as well. This was an ultimate performance for me...thank you!"
Adam Lambert
, Bar Refaeli & Selena Gomez Walk The MTV EMA Red Carpet [PHOTOS]November 6, 2011 7:30 pm
Adam Lambert
and Bar Refaeli both chose a head-to-toe blue look, with Refaeli in a custom-made Replay dress. Snooki looked superridiculous in her futuristic dress and hair in disarray. #Superstupid.
socialitelife.com/adam-lambert-bar-refaeli-selena-gomez-walk-the-mtv-ema-red-carpet-photos-11-2011
Picture of Adam and Brian May and others from the show.
Surviving members Roger Taylor and Brian May then played a medley of Queen hits with guest vocals from
Adam Lambert
, a former American Idol contestant. "It's a whole new generation," said Taylor. "We're obviously the oldest people here by a thousand years"
Link:
www.bbc.co.uk/news/uk-northern-ireland-15614707
MTV Europe Music Awards 2011 - Show
BELFAST, NORTHERN IRELAND - NOVEMBER 06: A
dam Lambert
performs with Queen onstage during the MTV Europe Music Awards 2011 live show at the Odyssey Arena on November 6, 2011 in Belfast, Northern Ireland.
Link:
galleries-news.sky.com/gallery/MTV_Europe_Awards?image_id=08I2cHM8zw2v2
QUEEN CELEBRATE MTV GLOBAL ICON AWARD WITH ROUSING 'WE ARE THE CHAMPIONS'
by: Joe Robinson
When honored with an award as massive-sounding as the Global Icon Award, what better way for a band to celebrate than to rock out with a song called 'We Are the Champions?' That's exactly what Queen did on Sunday night (Nov. 6) in Belfast, Ireland, when, as expected, they received the honor at the 2011 MTV European Music Awards.
Following the trophy presentation, Queen's Brian May and Roger Taylor hit the stage with 'American Idol' star
Adam Lambert
for an epic Queen medley that included 'The Show Must Go On,' 'We Will Rock You' and the aforementioned 'We Are the Champions.'
Link:
ultimateclassicrock.com/queen-celebrate-mtv-global-icon-award-with-rousing-we-are-the-champions/
Adam Lambert, Queen Perform At MTV European Music Awards
The crowd at Belfast's Odyssey Arena roared as Lambert, dressed head to toe in black leather, crooned a medley of the band's best-known hits, including "Show Must Go On," "We Will Rock You," and "We Are the Champions."
Earlier in the evening, Queen was honored with the Global Icon Award.
It was a fitting match for Lambert, whose theatrical performance style has frequently been compared to Queen's late frontman, Freddie Mercury, who died of AIDS complications in 1991. He isn't the first modern pop star to team up with Queen; Lady Gaga enlisted the band's lead guitarist Bryan May for her MTV Video Music Awards performance in September
Link:
www.huffingtonpost.com/2011/11/06/adam-lambert-queen-performance-mtv-emas-_n_1079050.html?ref=tw
The Photos
@popprince: Adam Lambert and Queen backstage in the media room #MTVEMA
yfrog.com/nvpkzzvj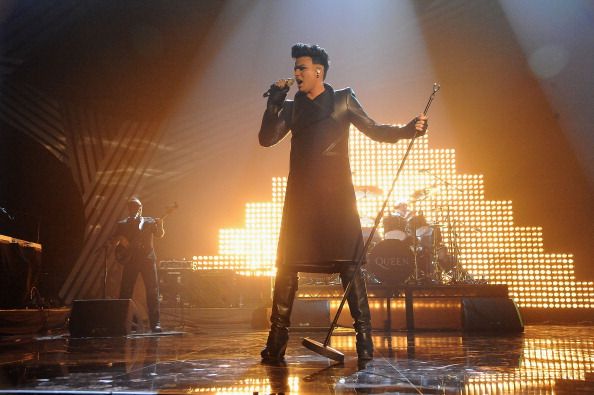 adam_pictures adam-pictures.com: Adam and Queen 51.
twitpic.com/7bn9m0
The Tweets
murmaids113 Jody: @adamlambert is trending everywhere! Look at this! twitpic.com/7bm3oj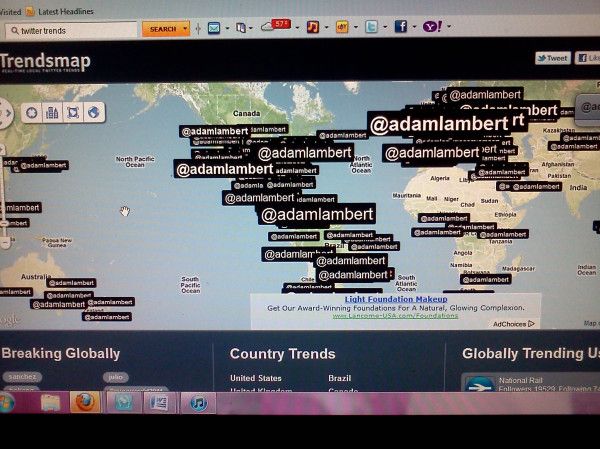 OIQFC Queen Fan Club
Really loved the performance and it was a different class to the other acts. @adamlambert was a really great choice for that event.
TommyJoeRatliff TommyJoe Ratliff
Nobody could have done that shit better. @adamlambert that was FUCKING amazing!!! "show must go on" gave me chills! SO GOD DAMN PROUD OF YA!
@uhhuhhermusic: @adamlambert So proud of you my brotha! You never cease to impress me. Loved seeing you in all your glory up there! xx
Sasha Mallory: @adamlambert heard you tore the stage up tnight man... I couldn't watch but I'll be on my DVR tnight looking for u

Sasha Mallory: Or I'll just watch it right now... Haha thanks guys.. YouTube does wonders
SashaMallory: @adamlambert daaaaaaaamn.. White boy got soul
leecherry I can't remember the last time I saw an actual rock star perform..oh yeah..5 min ago. @adamlambert w/ @queenwillrock!
alisanporter Alisan Porter: @adamlambert you are fucking brilliant
brookesauce75 Brooke Wendle
What an amazing moment in your journey @adamlambert 11-11-11 age of Aquarius bitches!
negativeneil Neil Lambert
@adamlambert i thought it was great. I like when you looked like you were casting spells on Brian May
PaulaAbdul The Real Paula Abdul
The .@adamlambert performance w/ #Queen on the #MTVEMA WAS #EPIC &i'm SO proud! Queen is 1 of the greatest rock bands ever- #globalicons
@shoshannastone: I am loving reading my feed. Loving the love for Adam! He blew everyone away with the legends who are Queen!
MTVUK MTV UK
WOW! What do you think: did @adamlambert do @queenwillrock justice? #MTVEMA
jambajim jim cantiello
@adamlambert Congrats on being one of the only vocalists who can come close to Freddie's power. That. Was. Unreal. \o/
MuchMusic MuchMusic Official: THIS. This alone is worth tuning in. 8ET. #MTVEMA RT @bigjismine @muchmusic Adam Lambert & Queen!
@bbckevinsharkey: Kevin Sharkey #mtvema awards. One highlight of highlights tonight. #adamlambert as lead singer with Queen! The boy's got it!
officialcharts: Great vocal from @adamlambert as Queen frontman. #MTVEMAs
@mtveuro: How fantastic was #AdamLambert with #Queen? #GlobalIcons #MTVEMA
NylonMag: Adam Lambert taking Mr. Mercury's place is actually... kind of... Incredibly awesome?!
deanpiper
deanpiper: Adam Lambert just killed it with Queen. Closest we're gonna get the Freddie these days. Really impressive. Now, let's party! #mtvemas
MauriceJay Maurice Jay: @adamlambert Amazing job !! Stole the show. Proud to have you in Belfast! Would love a quick word on the radio tomorrow morning if you can?
loudixon Louise Dixon
Adam Lambert and Queen the performance of the night at #MTVEMA
Louise Dixon @loudixon London
I am the acting International Entertainment Editor for Associated Press Television News based in the London office.
TAEizTV: I think I have gotten hooked on adamlambert music. After hearing him at the Ema's EVERYONE should listen to his music
GlamtravlerTrish @ninagarcia Adam's performance with Queen: He was spectacular! #AdamLambert #Queen #Medley
in reply to ª
@ninagarcianina Garcia:
glamtravler
OMG! GREAT Performance! So proud of him!
nilerodgers: Get down Adam- That was smoking - If Brian May reached out that's really saying a lot! Not many can hang with Queen-Bravo!
ohkiera Kiera Waring.
Gwan Adam Lambert! Singing with Queen like a boss. <3
Pkakooza Prossy
After the #MTVEMA am a definite Adam Lambert fan for sure!!
hi_imstevie StevieDenise Patton
Fair play to Adam Lambert! Fair set of lungs on that man. He sounds amazing. #mtvema
nadineflynn Nadine Flynn
I don't like adam lambert but fair play. You're doing freddie mercury proud... That is adam lambert, right?
UndercoverJamie Jamie
Wow, Adam Lambert you brave brave man! He is doing exceptionally well performing with Queen #MTVEMA
an7765: I'm shocked Adam Lambert is really channelling Freddie Mercury at the EMA's.
kikiandkyle: I don't normally have a lot of time for Adam Lambert but he really did a great job with Queen at the EMAs.
@jbrim09: Ema's were pretty good. Adam Lambert is killing this queen medley.
TAEizTV •TAE•: just heard @adamlambert @mtvema and this is the first time ive ever heard him song and dayum that boy can sing!!!
dOmiiMOnster Christian J.: Freddie Mercury will NEVER be replaced. But my God @adamlambert is the closet thing to his reincarnation! Such an amazing performance #EMA
ivonlambertivon darmayanti: @adamlambert You sing like a ROCK GOD. You walk like a super TOP MODEL. You talk like a sexy POET. And I LOVE and TOTALLY ADORE YOU
JakeRoman Jakub Roman
Adam Lambert and Queen absolutely destroyed that performance..there still is
talent in the music industry!
TAEizTV:
I don't know adamlambert never heard his music a day in my life but I heard him at the #MTVEMA and DAYUM he can sing
Adriandlp:
you were amazing Great!! adamlambert
dOmiiMOnster Christian J.
Freddie Mercury will NEVER be replaced. But my God @adamlambert is the closet thing to his reincarnation! Such an amazing performance #EMA
Mitchie012793:
OMG adamlambert u were fucking amazing!!!!!!!!!!!
TheDJMadonna:
AdamLambert is killing it on mtvema with Queen!
HoeyGaga:
adamlambert Such a treat to see u perform it in person front row from the stage 2nite, u did freddie mercury proud, ur amazing
nazaliii:
Cheers! AdamLambert the best next QUEEN! The best live performance of the show #mtvema
terriyaKBoy:
adamlambert is a rock legend in the making!! He fuels the evil inside me! lol
Burberry_touch:
adamlambert u deff stole the show!!! 1 word AMAZIN! Belfast need's 2 c more of u! Xx
MissUnconscious:
#AdamLambert is BRILLIANT. I just love him
romeoindemand Romeo Ontheradio
Forget @thexfactor ....The EMA's is where it's at and @adamlambert becoming FREDDIE MERCURY for the Queen performance!! OMG!!
joeybudiman:
Wow adamlambert was amazing with Queen
ains_in_da_hous:
adamlambert Dude, you killed it today on #MTVEMA It was like you were channelling the big man Freddie himself.
tomisfierce:
And i didnt know adamlambert was at EMA. He was fucking incredible.
MauriceJay Maurice Jay
@adamlambert Amazing job !! Stole the show. Proud to have you in Belfast! Would love a quick word on the radio tomorrow morning if you can?
stevgirl:
adamlambert most amazing vocal I have seen in a long time, u killed the #EMAs, Freddie would be proud! blown away by your voice
ninzzminigoth:
adamlambert at the EMAs. OH. MY. GOD. I didn't even know what it was I just saw. It's like he WAS Freddy Mercury. Amazing.
CherryWoods Cherry Woods
WOW to @adamlambert voice at the the #EMAs he's AMAZING! and I love @queenwillrock
izla_zandz Izla Zandz
He didn't diva that performance. Not one self-gratuitous virtuoso riff. He sang with searing and soaring honesty = why I love @adamlambert
SuesArtistry Sue Ottinger Bullock
@adamlambert Who's gonna' be responsible for replacing the roof you & Queen blew off the Odyssey in Belfast tonight??
sassyrockgirl ♫: I've heard of stars insuring body parts. Maybe @adamlambert should insure those pipes!
txflyr Chris Rogers: @adamlambert There isn't a singer alive today who could step in front of Queen and sing like you did! Thank u, u are absolutely amazing!!!
Aoife Carney
@_RocketQueen Ireland
That... Was an ending. LAWDY.
JESUS. It is not fair how sexy that man is WHEN HE IS NOT STRAIGHT
He wears leather jeans better than I do, fuck. ME.
I'm actually drooling. Lord, the SMELL of sex appeal off him.
Crystal
@cryscrumpet South Africa
Loved the "Queen" tribute. Adam Lambert brought the performance to life
Jakub Roman
@jakeroman Toronto
Adam Lambert and Queen absolutely destroyed that performance..there still is talent in the music industry!
Dharj Lagah ✌
@theonlydharj Diagon Alley
WOW. Adam Lambert smashed that Queen performance!
Lady Gaga's performance of Marry The Night is pure genius. I love her.
Carlo Beecroft
@carlobeecroft Burnham-on-Crouch/London
Adam lambert fronting Queen is brilliant, though imagine GaGa doing it..... I'd actually orgasm
Laura Foster
@laurafoster327
I just saw Adam Lambert listed on the Queen Wikipedia page under Past Members.
Emma Pritchard Jones
@emmapjones London - usually
Entertainment Reporter for BBC News
Lady Gaga was great too, and LMFAO so full of joy, they ruled. Sadly Bieber and Gomez weren't immolated by the pyrotechnics
Highlight of tonight's MTV #EMAS was Adam Lambert and Queen. That's some pair of pipes; hail a future rock god !
Phil Pendlebury
@phil_pendlebury
Entertainer, Songwriter, Producer, Musician
It was the amazing @adamlambert Thanks everyone (even the abrasive ones lol) - There were no obvious credits
Wow! Who was singing for Queen at the #mtvema Awards? Damn fine job. And still - What a band. Live - No tricks.
thefilmqueen Amaryllis: Rick Owens boots: $2400. Gareth Pugh coat: $3500. Adam Lambert performing with Queen: Priceless!!!!! #adamlambert #mtvema
The Downloads
@bdwaydiva1: I ripped the TV audio and normalized it. It's GREAT
bit.ly/sJIlfd
Link:
www.sendspace.com/file/49hlb5
MP3:
www.youtube-mp3.org/#v=XPGFWXYxGvM
Devenlane's media folder for tonight's stuff. She said no HD to downlad for a couple days.
t.co/gZjif5Va
Upcoming Events
Check the Adamtopia calendar for more events and links to more info.
Nov 13, 2011: Adam's episode of Majors & Minors on the Hub Network.
Episode Synopsis: Adam Lambert gives tips on stage presence as the kids cover his hit song, "Whataya Want From Me."
Original Air Date: Nov 13, 2011 7PM ET/4 PM PT HUB Network (US Cable)
Guest Cast Adam Lambert
Link:
www.tvguide.com/tvshows/majors-and-minors/episodes-season-1/330831
November 2011 - New single EXPLODES - no release date set
November-December 2011 - date TBD: Adam will be guest judge on "On The Line" With Joe Zee
Spring 2012 Adam's second album released
9.12.11 per Adam Lambert Twitter - no release date set but current schedule is February or March 2012.
Every Saturday from New Zealand
-- Adam Lambert Hour -- Live 6:00PM EDT US.
Link:
theflea.co.nz/
Check out the ALH page for podcast of previous shows.
This is the only weekly Adam Lambert show in the world.
??: Behind the scenes video of Adam #2 recording sessions to be released.
Help Keep Adamtopia a Great Place
Adamtopia is a labor of love -- meaning no one makes any money on this site. So our staff are all volunteers. Be nice to the moderators, they make this forum a pleasant place
We don't have a lot of rules here but they are essential. Just as a reminder...
The Adamtopia guidelines are quite simple. To be a member of Adamtopia...

1. You must be an Adam fan.

2. You must be respectful of other members. Feel free to express your opinion, but be glitterier and golden.

3. Strive to be funny, entertaining or informative when you post. Avoid posting something that has already been posted.

4. Never question anyone's right to post, the appropriateness of a topic or define the proper way for an Adam fan or Adamtopia Member to behave. Let the moderators do their job.


More rules will be added if the need arises but, if everyone follows these rules, we will not need a lot of rules.