Post by Q3 on May 19, 2011 19:25:02 GMT -5
A fan created poster for this concert.
Adam plays Moscow!!
5.28.11 Adam performing in Moscow, Russia. Maxidrom Festival - Toshino Airfield

Adam is on at 5:30AM EDT US/2:30AM PDT US.
The festival line up...
The Order of sets in MAXIDROM FESTIVAL Moscow Tushino airfield:
1.BRAINSTORM // начало выступления в 12-15*
2.ADAM LAMBERT // 13-30 (5:30 EDT US/ 2:30 PDT US)
3.TRAVIS // 15-15
4.ЗЕМФИРА (Zemfira)// 16-45
5.KORN // 18-00
6.THE PRODIGY // 20-00
More info:
www.maxidrom.ru/news/?news_id=3624
RussianUkrainianFans
On Sunday 22nd May 2011, @adamlambertruua said:
All you need to know about @adamlambert Moscow Show!
PLACE
Tushino airfield in MAXIDROM FESTIVAL
(1 year ago there was a musical fest. You can see how it was than here -->> )
Maxidrom's scheme
concert.ru/Scheme.aspx?ActionID=21412
TIME May 28th
Moscow Show time conversion table
bit.ly/jSvE6m
PARTICIPANTS's websites
www.brainstorm.lv/en/
www.adamofficial.com/
www.travisonline.com/
www.zemfira.ru/eng/index.html
modlife.com/korn
www.theprodigy.com/
The Band
Monte, Tommy Joe and Issac were all in Moscow. They performed without anyone on keys.
Arrival
LAMBERT_LIVE: Cosmo.ru will do Adam's interview, photograph it and shoot video - (translated) Just confirmed
tumblr.com/xho2og4al6
Twitter Follow List
twitter.com/#
!/@lambert_LIVE/maxidromfestival
You can translate it here:
translate.google.com/#ru|en|
(Set for Russian to English.)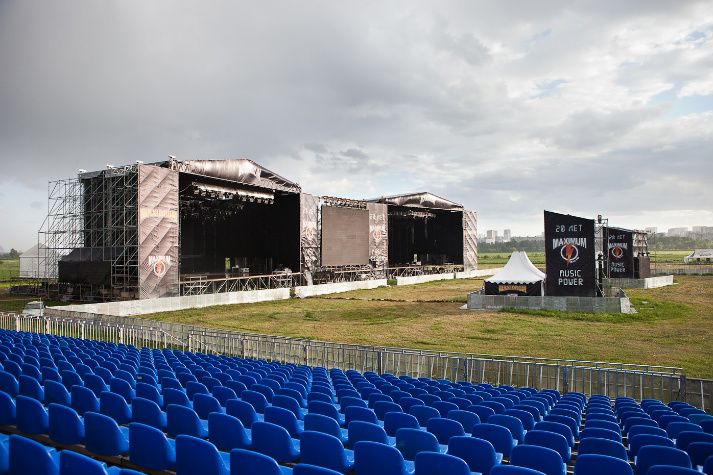 The stages were located side-by-side with a "Billboard" in between.
This is the video "Billboard" between the two main stages that confused people on Twitter.
The Concert
5.28.11 by Q3
About 12 hours before the concert, Adam's touring band keyboardist, Camilla Gray, Tweeted that she was sick and would not be in Moscow as planned.
UhHuhHerMusic U H H: Yes it's true-I am still in LA. Had to rest on Dr's orders, so stayed behind. I know my boys will kick ass in Russia. x,c
There was some speculation that Zac Baird would be on keys. He was at the concert to play with KORN and was previously with Adam. He had also substituted for Cam on a couple GNT concerts when she had schedule conflicts. But Zac (@justcallmehorse) tweeted this:
"putting mystery to bed, i think they have it covered. but i will be standing by and in their corner"
"Yes, I knw so many songs"
Adam and the band worked it out by selecting songs and arrangements for the concert that did not require a keyboardist.
At about 2:30 PM Moscow time, Adam and the band took the stage and performed a 10-song all-electric set.
MAXIDROM FESTIVAL Setlist:
1. Music Again
2. Down the Rabbit Hole
3. Whataya Want From Me (Electric)
4. Fever
5. Sleepwalker
6. 20th Century Boy
7. If I Had You
8. Strut
9. Whole Lotta Love
10. Sure Fire Winners
Soundcheck-Gate!!!!
The moment Adam took the stage, the audience stopped tweeting. And during the Adam-induced Twitter silence, many online fans were trying to find out what was going on. Most of the Tweets about the concert were from people who were not there and many were in Russian. So as bad as Twitter info can be, now add in the problems that occur when people use online automated translation.
While Adam was performing, a Russian radio station, Radio Maximum, told listeners that Adam was performing a soundcheck. This information was Tweeted by AdamLambertRUUA and quickly spread across Twitter and Adam fansites around the world.
Soundcheck-gate was born! (this thread records the various worries and rumors). Contrary to Twitterumors, people attending the concert were not confused and there were not Russian Adam fans waiting at another stage for the "real" concert.
One of the funniest Twitterumors happened when a photo of the Adam billboard that was between the two main stages was assumed to be proof that Adam was doing a soundcheck on a smaller stage and would be doing the real performance on a bigger stage. This, of course makes no sense because they need to soundcheck on the actual stage. Other misinformation included fan expert explanations that Adam usually soundchecks by doing his whole set. (He does not do his whole set in soundchecks -- and usually does about 4 songs sometimes including partial songs, play lyrics and some material that is not part of the concert.)
After the concert Adam apparently saw Twitter and was confused too. He tweeted:
Adam Lambert adamlamrt Adam Lambert: Soundcheck? Umm Im confused. Haha
Adam Lambert adamlambert Dear fans: THAT was the performance. It was a daytime performance.
A few post-gate Tweets:
AdamLambertRUUA Thanks, guys for support! Means a lot! And we're sorry for helping @radio_Maximum to spread the confusion about soundcheck!
5.28.11 via TweetDeck
LambritsUK Definitely xx RT @lambert_LIVE: Thanks goes to all the fans at the @adamlambert show in Moscow today for all your pics, tweets and fun!
5.28.11 via Echofon
AlexRose312 @adamlambert On behalf of this fandom, I apologize. We're all either drunk or sleep-depreived. Not to mention we don't speak Russian. xD
5.28.11
Here is a great pictorial version of the story:
jojobananaface.tumblr.com/post/5927241947/soundcheckgate-in-clusterfuckland
Concert Attendees Tweet
@ BertFolieadeux: Adam said "Spasibo", "na zdarovie", drank vodka then said, "I love Russia" --- via @ eclair_unfbertless
5.28.11 TweetDeck
ilovehawaian
: He came out! I got an autograph!!! HE IS SO DAMN BEAUTIFUL OMG THOSE FRECKLED HANDS IM FUCKED HE'S AN ANGEL SO BEAUTIFUL
Note: ilovehawaian is an ATop member.
Not Gonna Get Me
@adamlambert You were absolutely fabulous! And you looked fabulous too ;-) Promise you'll come again! #RussiaLovesYou
PhotosHere is an album of 100+ great photos from the concert:
s770.photobucket.com/albums/xx348/Quu3/052811%20Moscow%20Maxidrom/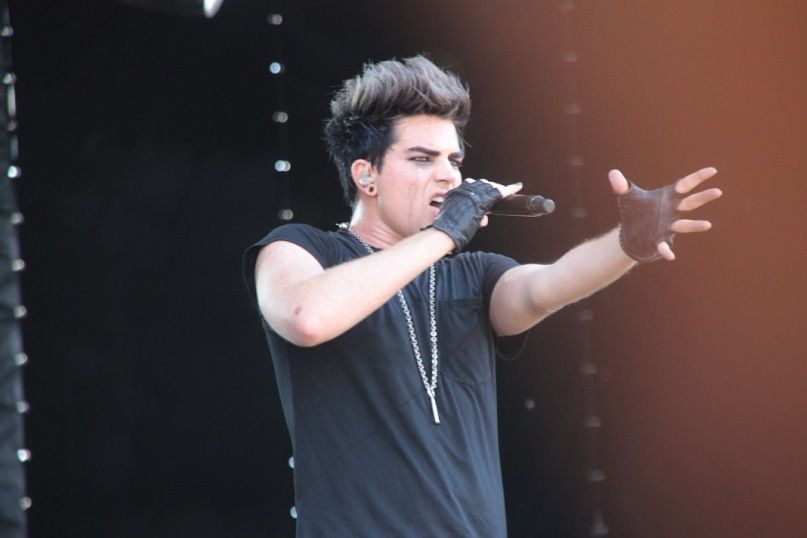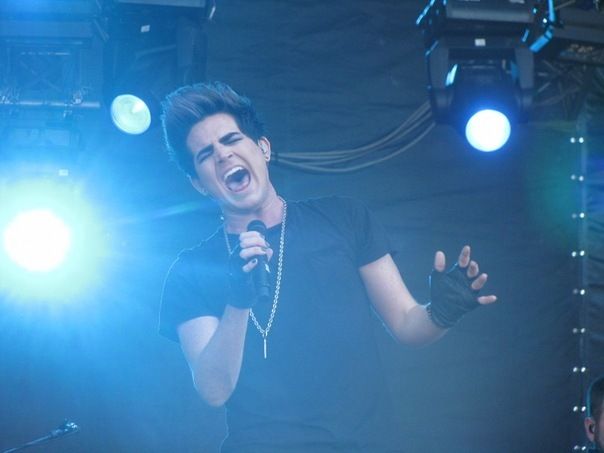 Videos4Msrmyn's Playlist
2011-05-28 Adam Lambert Maxidrom Moscow Russia:
www.youtube.com/view_play_list?p=0E49C49EC8AB20C8

THE BEST CONCERT VIDEOS FROM ONE SOURCE -- these are not posted below.
This is the best video so far from the Moscow concert.
The entire concert from the first row -- audio is a bit distorted but view is unobstructed.
www.youtube.com/user/OlvyaLicious
Meet & Greet and pre-concert autograph session
filatius
4nt0n1n4 (Adam signing fan's hand)
PolinkaKaulitz (Adam signing autographs for fans in the audience)
Music Again
JadellEJ
GoldRain94 (with intro)
Down the Rabbit Hole
(Adam forgot some on the lyrics, replaced it with a wail.)
JadellEJ
missisnorris (moderate quality audio)
goldrain94 (partial with balloons floating away)
WWFM
(electric)
JadellEJ (with Adam's intro)
Avania14 (limited fan singing on this one)
Missnorris (audio of fans singing along)
Fever
TheJinaBell (moderate quality)
missisnorris (with fans singing along)
CoshkiMishki (better audio)
avania14 (some "helium" vocals on this)
20th Century Boy
CoshkiMishki (Good audio)
missisnorris
IIHY
Avania14
forantonhudec (audio issues -- lots of fan noise)
Strut
forantonhudec (audio issues -- lots of fan noise)
Whole Lotta Love
CoshkiMishki(Great audio; last 3:06 of performance)
Sleepwalker
tsirlina (Moderate audio quality)
missnorris
LovelyIvy8 (Partial -- but great audio quality)
Surefire Winners
CoshkiMishki
Adam Lambert After the Show
cherry1570

Downloads of Moscow videos:
devenlane I GOT YOUR SAUSAGE
ALL DOWNLOADS OF MOSCOW VIDEOS ARE BEING UPLOADED HERE. REFRESH PERIODICALLY TO SEE
www.mediafire.com/?qk858km67hfc7
Postscript from Adam
First he tweeted some photos from the concert:
adamlambert Adam Lambert
Moscow
say.ly/cTwmBk
adamlambert Adam Lambert
Moscow
say.ly/elUmBi
adamlambert Adam Lambert
Moscow
say.ly/eKymBc
adamlambert Adam Lambert
Onstage in Moscow
say.ly/NDEmBa
And Adam closed with this great Tweet:
"Creatively inspired by today's Russian fans! No matter how much studio fun I have- nuttin like doin it live! Reminded why I luv 2 sing."
My message to Adam -- well just get finished in the studio and come back to doing what you love to do!
ilovehawaian's Moscow Concert Recap
posted by ilovehawaian
Ok, so after a good night's sleep I'm finally able to write down my impressions and memories from the concert. Don't know where to start though

First of all, it was my 1st time seeing Adam Lambert and listening to him live. There is a proverb in Russian that states "It's better to see something once, rather than to hear it 100 times". Well, in this case it was both – watching him perform and listening to his voice – and it was just amazing. So amazing that I don't even remember much due to the emotional overload.
The night before the concert I could not fall asleep. Panic and nervous excitement occupied me. I already knew that Adam had met some fans at the airport, and I was disappointed that I wasn't there. My bff had a long twitter session comforting me and I finally managed to doze off. Woke up way to early - me and my friend headed to Tushino at 8am. Underground, standing in queue to the entrance, multiple checkings, crossing the huge GA field, and there I was, running through the Fan Zone to the stage A. The center was already taken by other Glamberts, but my friend found me a nice place in the front row, the right side. Later came the girls w balloons and carton red hearts – we planned these little flashmobs beforehand – and distributed them. Then we just waited, for more than 3 hours and entertained ourselves by sporadically chanting Adam's name and signing WWFM, Fever, IIHY in unison. It was fun to be a part of it, feeling that you are not alone, and I was just PROUD to be a Glambert. Now I know what it means.
Adam's set was supposed to start at 1.30pm, but the previous band started w a delay and there was a break between the sets, so Adam started around 2pm, if I remember correctly. At one point, he came out on the stage to check out the crowd and waved to us. We went wild! It was so random, good that I noticed him coming out – on the right side where I was! He was in a Tshirt and w/out glasses, and his smile was so wide and beautiful. Could have a heart attack right then. So close!!! Squealing so loud and shrilly for the 1st time in my life.
Finally the jumbotron displayed "ADAM LAMBERT" and we started screaming…and then he came out on stage, looking like a fierce rockstar (I know! that's what he is! Lol)!!! I don't remember if he said anything before Music again started(( Was too fascinated by REAL Adam and REAL Tommy and REAL Monte and REAL Isaac. That's when I got the true meaning of 'Fuck My Life' expression. After the final "You make me wanna listen to music again" the purple balloons went up in the air. I really hope that Adam liked it. Everything for His Hotness!
Here is my Music Again video, thanks to my Bff who filmed it. A far off shot, but other vids will be better.
I have to say, his presence on stage is overwhelming. He commands the space and is so confident and natural and fierce, and edgy and just out of this world. Moved like a panther, a sexy beast – no blushing! And I don't even mention his voice, because I was so caught up tracking Adam's movements on stage I didn't listen attentively. The thumping from speakers in my chest was strong though. Two more words learned – Sexy and Eargasm.
Down the Rabbit Hole. "Adam is too hot for this stage", I thought. His sex appeal is so strong, it's irresistible, if I were a gay man I'd stalk him 24/7 on my knees, leaving a path of drool behind (me being a straight girl doesn't change things up much, js). Seriously, his dancing, flexibility, expressiveness, body language…how he showed his 'kaleidoscope' and strutted showing of his booty (one hot piece of ass, sorry) and I might imagine things, but at one moment his shirt went up and it was almost like a Ring of Fire hipbone moment, but 100 times better. Tommy is the world champion in hair flipping. He is pretty!! And tiny and sexy as well, and his hair looks like cotton candy. Somebody on twitter mentioned that he is a pony, I agree – a pony from the Barbie set. Lol But his hair!! Oh, and I missed the moment when Adam removed the glasses – don't remember. More expressions clarified for me: Pretty Kitty, Unfbert. Here's the vid:
It was very hot that day – I got sunburnt really bad. But the heaven must be thanked because we got undressing Adam! He removed his jacket in such a sexy manner (haz lotsa practice since AI tour, yeah?) that I almost
peed jizzed
whatever in my pants. How Sauli keeps his hands to him all the time?! Am not talking about the sexytimez, but simply about being around Adam. Ok, so Adam said smth about it being hot (fuck, I don't remember!!! :'O) we went wild for more open skin and he said that we might know the next song – WWFM. We planned to hold red hearts during this performance.
I loved how he sang it – so confident and emotional, and the vocals were perfect, but most importantly, he came to my side of stage and was so fuckin close, like 3 meters from my face. At one point he totally looked in my eyes, I swear. The eyeliner makes his eyes look so deep, I drowned in them. Could not figure out the exact color though. Also, during WWFM when he stepped front and centerstage, I noticed the boots. Adam, you do not trip a lot in your wedges, dear. Downside – one cray won't leave me alone and hit me on the hand a couple times, and almost ripped my carton heart. She was filming on a cam and I guess she was pissed off. Said hateful comments about stupid squealing girls (meaning us, glambies with balloons and hearts that got into her way). Here is the vid with a great close up in the 2nd part:
Fever video, my first Adommy moments

Sleepwalker was so dope! At the beginning when the first chord was played I thought it was a new song! Lol. I was banging my head so excitedly that at one point it hit the cam of the cray that stood behind, haha! xD Here is a short vid – my 1st camera's memory was full.
I will post other vids later, can't do it now because I don't have the right SD card slot for the other cam.
Before Twentieth Century Boy Adam said smth like "And now we're going back to the 70s where Glam rock was king", If I Had You was all jumping, then Strut, Whole Lotta Love was jamming, Sure Fire Winners was "Do you really want more?!!!!" I think that's all…
The images and sound are coming and going in flashes, and I randomly recollect them. For example, this morning I remembered that Adam introduced Monte (and then Isaac and then Tommy), we didn't cheer loud enough. He tried one more time, using "fuck" or "fucking" while telling us to meet his band. Tommy, flipping his pink hair and coming upfront encouraging us to clap hands and cheer for Adam, comes to my mind every so often. Then, just now I remembered Adam's tongue action during 20th Century boy and how he showed his toy. See?!? The creepiest part is that I try to hold on to this flashes of reality, and I'm scared that I will forget them. Also, I did not want to watch the vids and pics that day, bcs the "realness effect" that I got might disappear and those would be just ordinary youtube videos.
In a few words:
I lost my Glamginity. Finally!
Adam is the definition of beautiful
He said 'fuck' and 'fucking' a lot
Adam and Tommy are from the other planet, or from heaven. Not sure about the rest of the band. Lol
I'm Team His Freckles and Skinbert forever!!!
Realness is the new reality
Oh noes, the whole autograph story slipped my mind! ;D
After Adam's set a group of glambies, including me, were staying new the stage and waiting for him to come out for 1 and a half hour. My friends were exhausted and sunburnt and wantedto go home, and I ALMOST LEFT at that point. But then I heard people screaming and ran back to see Adam approx 10 metres from me, there was the promised Meet&Greet, it was filmed by 2 pro cameras.
We started screaming Adam's name, he spent so much time with those lucky contest winners (I participated also, but did not win

). And then finally he headed to the "ordinary folks" and started signing. You should've seen me. It felt like I was slammed by a hammer.
Slipped my hand between people directly to Adam, and HE SIGNED IT!!!
I moved along the line and was so close to him, like 3 inches, and he is so gourgeous! Thats when I noticed his freckles! Didn't get a chance to touch his hands, always was one fucking centimeter away!! But his hands...he has better manicures than me lol. And he's tall and shiny and his face is glowing and the hair omg, that multicolored gorgeousness and huge glasses and soft, soft beautiful voice that is 100 times better in reality thatn in any interview....I fail at describing how good it was and the memories are already blurred a bit, but I clearly remember the glow around him, he is an angel)))
My tweets from yesterday:
Today is THE DAY! #excited #feelslikepukin
I SAW ADAM! HE CAME OUT ON STAGE TO GREET US. Standing front row w a purple baloon and red heart. FUCK MY LIFE! HE'S GOURGEOUS
ADAM JUST FUCKED MY BRAIN AND I DUNNO HOW IT HAPPENNED. Expect lotsa vids n pics, lotsa photogs here
HE'S ONE SEXY BEAST ON STAGE. Those eyes on fire...im a poodle of unicorn jizz. Tommy is a magic elf w pink glittery hair #UNF!
FUCK WHAT JUSHAPND?!? I wanna meet him dayum why I didnt win a M&G...
It's over. In the blink of an eye. MA, STRUT, WWF, WLL, SFM, 20CBOY, DTRH, Sleepwalker...not in this order, no aftermath, vodoo or soaked
'Na zdrov'e!' Lol. Adam please come out to us and show some love. IIHY and Fever also were thur. Medges!
He came out! I got an autograph!!! HE IS SO DAMN BEAUTIFUL OMG THOSE FRECKLED HANDS IM FUCKED HE'S AN ANGEL SO BEAUTIFUL
Almost got to touch his hand, he was inches from meh, got pics only on my lame 2mpx phone cam. But SO DAMN BEAUTIFUL.STUNNING ILHSFM!
@adamlambert beauty and the BEAST (sexy beast)
yeah, I'm still in the afterglow

should remember this day forever #legenfuckindary
Just remembered how supportive Tommy was throughout the whole show - went front and encouraged us to cheer more for Adam. #sweet #trueadommy
the crowd in front of Adam's stage was huge, while others performed w ppl lying on the grass and tanning Lol
I'm a mess rn tbh

I can't believe I saw him so close - mere inches in front of my face. I flailed so hard I don't remember much)
it's probably an emotional overdrive but I'm so proud of him right now, I have tears in my eyes, bb

Adam is so brave n honest
now I understand the true meaning of many words in the glambert vocabulary #majorrevelation
I don't want this day to end. But tomo Adam still will be somewhere in Moscow

@tommyjoeratliff your hair flipping skills are top notch. Whip it once and every gurl you want is yours, JS
Mmmm, I was not looking much at the Glambulge today, bcs I discovered Adam's 'rear end' #bootyappreciation Lol
I'm officially #TeamHisFreckles! They're so good, like chocolate crisps or caramel frosting...And they're EVERYWHERE #UNF
And his hands........I will remember his freckled hands w/ golden hair and glowing skin and perfect palms and manicures forever. Damn
But those freckles OMG they won't leave me alone. I've never seen anybody so gorgeous and natural at the same time.
#REALNESS is real, guise
Realness is the new reality
Oh and how he moves...damn, I need to go to bed, I'm incoherent rn #whatayawantfromme?
I actually thought that he is so thin, esp legs. But this was my 1st time so...dunno abt the real GNT situation
And who noticed eye make-up? Some crazy make up art going on there. So damn beautiful. Out of this world
He is! Blindingly beautiful I'd say, maybe it was the sun, but he was glowing...fml

#addicted ;D
Vids will be up tomo, going to bed. Hopefully will see Adam in my dreams. My life has changed today @adamlambert
@adamlambert @tommyjoeratliff @monterrific @isaacthecarpthank you for the great show! You totally rocked the stage! Feeling our love? <3
his presence is overwhelming and his singing is really moving. His stan forever Lol
Almost fell asleep but then realized that I don't even remember the setlist #brainwashed
@noangelpf hah, there should be sort of an Adam Lambert manual w all the berting stages described for self diagnosing Lol
We all got badly sunburnt today and I can't feel my feet, but it was for the greater purpose
mr perfection has some serious power. Luckily, he uses it for good

the Qn remains. Where Adam is going to be tomorrow?? I have to pretend that I actually have a life
Kay, now really sleepy time happening. Clutching my signed carton red heart close to my real one. Good night bbs!
oh noes, one more random berty tweet. EDGY was one of my first associations while I watched Adam performing. FIERCE was there too
And I absolutely LOVED Adam showing his kaleidoscope" during DTRH xD new songs should have lyrics abt torpedoes xD
Consolidated Links
by 4Msrmyn
May 28, 2011 Adam Lambert Maxidrom Festival Moscow Russia
Terra Wiki Page
2011-05-28 Moscow, Russia (Maxidrom Festival):
ferus.terrapolis.org/index.php?title=2011-05-28_Moscow
,_Russia_%28Maxidrom_Festival%29
================================================
Terra Embracing Obsession:
terraj.livejournal.com/?skip=20
==============================================
Hoopla Magnet Media Index A - O:
community.livejournal.com/hooplamagnet/81346.html
================================================
Hoopla Magnet Media Index P - 100000:
community.livejournal.com/hooplamagnet/81651.html
================================================
Hoopla Magnet Media For MAXIDROM FESTIVAL:
hooplamagnet.livejournal.com/121127.html
================================================
Lambosessed Concert Media Links Spreadsheet:
bit.ly/GNmedia
================================================
Adam Lambert Obsession:
adamlambertobsession.blogspot.com
================================================
Adam Lambert Obsession
Moscow Maxidrama:
adamlambertobsession.blogspot.com/2011/05/moscow-maxidrama.html
================================================
Adam Without Pity Glam Nation Tour Media Page:
adamwithoutpity.com/viewtopic.php?f=3&t=169
================================================
Adam Without Pity MAXIDROM FESTIVAL:
adamwithoutpity.com/viewtopic.php?f=2&t=189&start=4975
================================================
IDF (Idolforums) Adam Lambert Thread:
idolforums.com/index.php?showforum=580
================================================
IDF (Idolforums) For MAXIDROM FESTIVAL:
idolforums.com/index.php?showtopic=667653
================================================
ALL THAT GLITTERS THE SPINDLESHAY Blog:
littleglitterlittleglam.blogspot.com/
================================================
ALL THAT GLITTERS THE SPINDLESHAY Blog MAXIDROM FESTIVAL:
littleglitterlittleglam.blogspot.com/2011/05/adam-lambert-at-maxidrom-moscow.html#more
********************************************************************************************************
Adam Lambert Wallpapers Made by Essell:
(Scroll to the bottom of the page.)
www.essell.mattijarvenpaa.com/newest.htm
===============================================
Glam Nation Tour - Summer 2010 Photo Scrapbook @quinnait on twitter:
www.kinnetik.org/glamnation/
================================================
Highlights From Terra (From Wiki Page) For This Concert:
The band is scheduled to play at the Russian Maxidrom Festival at 1:30 PM. The festival starts late so the acts have been pushed back.
A couple of hours earlier, Camila Grey had tweeted that she was unable to perform at the festival due to an illness that kept her in the United States. As Zac Baird who plays for Korn happens to be playing at the same festival, there is some speculation if he will be taking her place for this concert. He subsequently tweets: "...i think they have it covered. but i will be standing by and in their corner."
At about 2:30 PM, the band begins performing.
"Down the Rabbit Hole" is a hot mess with Adam forgetting the lyrics for half the song. He makes up for it by wailing his way though the song...which kind of works!
This rock version of "Whataya Want for Me" features some new amazing improvisations towards the end. One of the hottest live versions of the song to date.
"Fever" contains some crazy high notes not unlike the UK GNT versions.
"Sleepwalker" in this Moscow concert is one of the best versions of the song ever, with some ridiculous improvisations after the guitar solo, all the way to the end.
"Whole Lotta Love" today is electric and similar to the standard arrangement. The audience though, appears to be a good mixture of fans and non-fans watching him perform for the first time. In the video below, it is clear that some male audience members are clearly enjoying the song from their headbanging.
ferus.terrapolis.org/index.php?title=2011-05-28_Moscow
,_Russia_%28Maxidrom_Festival%29
================================================
Highlights/Recap From Lambosessed
Moscow Maxidrama:
After nearly 6 months of waiting for an Адам Ламберт concert and having initially dismissed this as just a rumour, it finally arrived. We were all ready to live this concert vicariously through the Russian fan tweets, hoping that someone might stream video.
And so the drama started. The set was running a little late then photos and song titles trickled through only to find out that this was just a sound check. What the fuck? I thought it was weird but my overriding feeling was of jealousy that they got so many performances. So we wondered when the actual concert would start. The rumour got shot down by Adam straight after his "sound check" performance. Biggest collective fucking facepalm ever.
adamlambertobsession.blogspot.com/2011/05/moscow-maxidrama.html
********************************************************************************************************
PLAYLISTS
================================================
Terra's List Of Playlists:
terraj.livejournal.com/
================================================
Terra's Playlist
2011-05-28 Adam Lambert, Maxidrom, Moscow, Russia by terrapolis:
www.youtube.com/playlist?p=PLE020942532DA55A9
================================================
(Lambosessed tries to edit concert videos down to only her pick for best video for each song. She has 13 videos embedded on her blog.)
Lambosessed "Best Single Video" Playlist
MAXIDROM FESTIVAL:
adamlambertobsession.blogspot.com/2011/05/moscow-maxidrama.html
================================================
Adam Without Pity Page For Kaestra's Playlists:
adamwithoutpity.com/viewtopic.php?f=3&t=169
================================================
(Kaetsa Collects all videos without editing for each concert.)
Kaetsa's Playlist
2011-05_28 Maxidrom-MoscowRussia by kaetsa:
www.youtube.com/playlist?p=PL1206A069654F0474
================================================
4Msrmyn's Playlist
(I start by collecting them all. After a few days, I put the best videos first. If we have an abundance of videos, I will delete partials and those with poor sound quality.)
2011-05-28 Adam Lambert Maxidrom Moscow Russia:
www.youtube.com/view_play_list?p=0E49C49EC8AB20C8
********************************************************************************************************
DOWNLOADS
Shared Files "deven" Shared Files / 05-28-11 MaxidromConcert-Moscow, Russia:
www.mediafire.com/?qk858km67hfc7
********************************************************************************************************
MAXIDROM FESTIVAL Photo Sets:
Planet_Fierce
s1019.photobucket.com/albums/af319/Planet_Fierce/2011%20Maxidrome%20Moscow/
4Msrmyn
2011-05-28 MAXIDROM CONCERT ALBUM
s954.photobucket.com/albums/ae29/mililac/2011-05-28%20MAXIDROM%20CONCERT%20ALBUM%2003/
================================================
4Msrmyn
2011-05-28 Russian Pics Maxidrom festival
s954.photobucket.com/albums/ae29/mililac/2011-05-28%20Russian%20Pics%20Maxidrom%20festival/
================================================
4Msrmyn
2011-05-28 Danil Polevoy Plus Extras
s954.photobucket.com/albums/ae29/mililac/2011-05-28%20Danil%20Polevoy%20Plus%20Extras/