Post by Q3 on Dec 18, 2011 0:16:15 GMT -5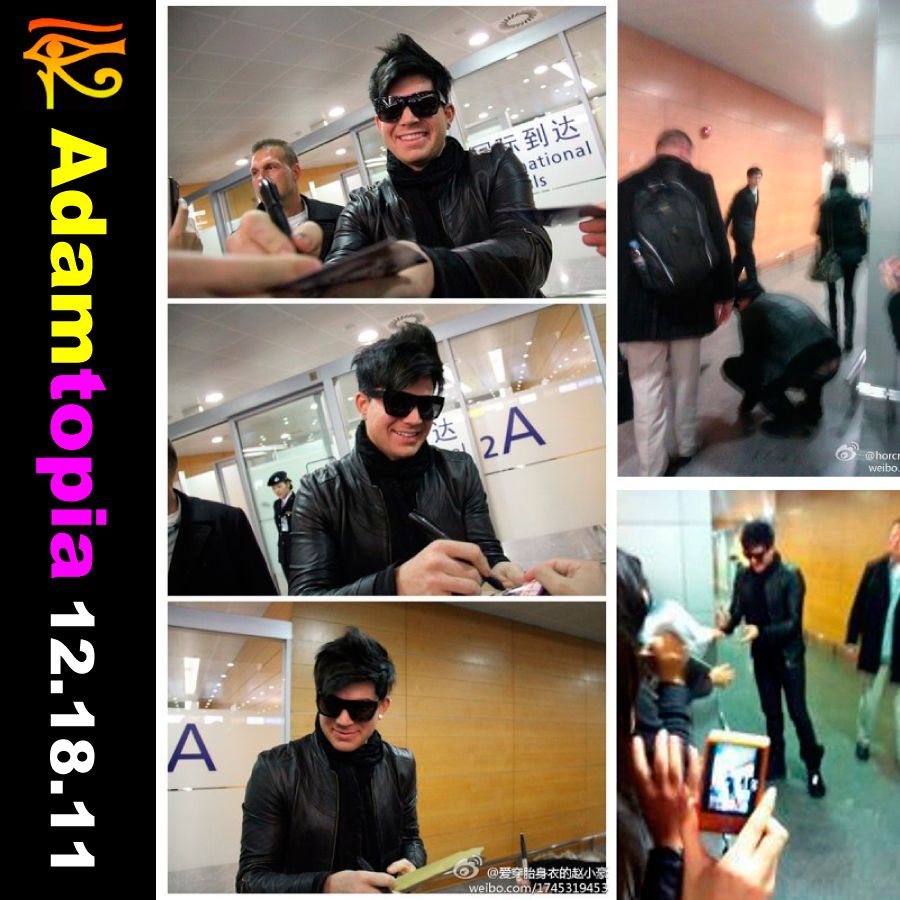 Adam in Shanghai
OMFGMusic OMFG Music
Adam Lambert's new single "Better Than I Know Myself" is pure pop gold. Way to go, @adamlambert!
12.18.2011
Retweeted by adamlambert


_C_Johnston_ Craig Johnston
@adamlambert you replied!

made my day. Your new tune is immense. Love love love it. And your vocals!


12.18.2011
BTIKM is like Chocolate
12.18.11 by Q3
I have to admit that I love BTIKM. Why do I sound guilty? Because after listening to this track for the Nth time (I lost count!), I feel like I have eaten an entire box of chocolates! (in a good way – all the pleasure without the calories!)
Liking a song is rational – loving a song is from the heart and soul.
Listen to BTIKM – rip it apart if you must. The lyrics are OK. The melody is OK. The production is OK. Left in the hands of a lesser vocalist, it would be another well-crafted pop song. But add in Adam Lambert and it is a whole 'nother thing.
The vocals are heavenly and the way Adam's vocals are layered and build as the song progresses…..leaves me speechless. So, like a box of chocolates, I listen to BTIKM and feel something wonderful. I say to myself that I have had enough, I push the box of chocolates away. Then a few minutes later, I catch myself hitting the play button one more time.
I hit that play button – I bite in another treat – and this time I get a caramel center. Next a mocha cream. And I hit play again….and again
For a change, I'll leave the analysis to others. Yes, it's "just another pop track". Yes, I am sure it will get airplay. But I don't care about thinking anymore – where is that play button?
Music is not rational – it is emotional. And when a song makes an emotional connection, it is over. Nothing can take that away. Nothing can replace that connection. And there is no way to explain it.
…..
When FYE was first released I detested – I mean detested – "Aftermath". Then I heard it live acoustic. And I realized that I had never listened to the song. I love it. It is now one of my favorite songs.
So if like me, BTIKM was love at first listen for you. Cool. (Or is that hot?)
But if did not grab you, I have a couple suggestions….
- Take a listen to it one more time and do not think about it. Picture Adam singing it live. Don't think about what someone else might think or if it is going to be a big hit or if it will change the planet -- just listen to it.
- If you still don't love it, forget about it. It is just a matter of time for Adam to come up with another version of it that will sneak in and grab you.
…….
BTIKM is getting very good to great reviews from critics and form most self-appointed music experts. A couple representative reviews are posted below. DJs and radio stations in the US and Canada has tweeted their excitement about having new Adam Lambert music to play. Radio stations in Southeast Asia and New Zealand have already played the new single. The prospects for this single look really good.
To quote one review….
"Better than I Know Myself" is pop perfection at its finest: it sounds current and "in", but it also doesn't quite follow the most popular formula.
…….
Yes, BTIKM Is like having a whole box of chocolates and I have that happy, chocolate-induced smile on my face right now. So where is that play button?
Remember – with Adam – resistance if futile!!

Better Than I Know Myself
Posted by Gelly14
I saw this on twitter I don't know who made it.

The "Epic" Times Article
Published 12.18.11
Source: Bloody_Viki Bloody Mary
The Times HQ scans. bit.ly/rtRIhq bit.ly/sCAKhm bit.ly/uPlpEl

Hey, Scaramouche, will you do the fandango?
Lisa Verrico Published 18 December 2011
The Sunday Times (London, UK)
[photo of Brian and Adam performing]
Caption: One vision. Brian May and Adam Lambert conquer the stage (Leon Neal)
Inset quote:
It's not easy thing in mainstream music to be a gay man. In Europe it's no big deal but in the States it's still a big deal
Filling Freddie Mercury's shoes must rate as rock's most daunting situation vacant. Fronting a performance by Queen, to be seen by a TV and internet audience of millions, with only one week's notice is certainly a challenge few established singers would be willing to accept. Tarnish their memories of Mercury and Queen's fans will never forgive you; try to outdo the flamboyant front man and you'll fail.
At the European Music Awards in Belfast last month, the former American Idol contestant Adam Lambert not only took up the challenge, but pulled off a performance so perfect, plans are already afoot for further shows. Both Roger Taylor and Brian May have regularly spoken of their love of Lambert. Taylor recently described him as a phenomenal performer with an unequalled range. May, meanwhile, has been comparing the Californian to Mercury since the 2009 American Idol final, when Queen backed Lambert singing We Are the Champions in a voice that summoned the spectre of Freddie.
"After Idol, we discussed performing together again," says Lambert, 30 next month, who came second in the talent contest and went on to sell more than 1m copies of his debut album, For Your Entertainment. "Every time I saw Brian, the same conversation came up. A week before the EMAs, he called to say that Queen were getting an award, and would I sing with them? Was I scared? Hell, yeah. Freddie's are f***in' big shoes."
Perversely, shoes proved to be the least of Lambert's worries. For the performance, he opted for a worn-in pair of wedge-heeled boots by Rick Owens. Combined with his 6ft 1in frame and hair in a high quiff, he towered over May when the pair strode down a walkway and posed back to back. But it wasn't Lambert's shoes that stole the show. Or his black leather off-duty-Batman outfit. Or, thank heavens, any attempts to ape Mercury's moves. From the start of the opening song, The Show Must Go On, Lambert had the arena audience on its feet because of his confidence and a voice that seemed to stun even May. He couldn't stop grinning, as though relieved that a 20-year search for a suitable successor to Freddie had finally ended.
Lambert shares not only Mercury's vast vocal range, but a theatrical delivery that comes partly from growing up listening to Queen — he sang Bohemian Rhapsody for his Idol audition — and partly from a decade spent starring in musicals.
That Lambert outshone even Lady Gaga and her pricey, prop-stuffed set at the EMAs was particularly impressive considering most of the crowd had no idea who he was. This side of the Atlantic, Lambert has yet to have a hit, and his appearance was unannounced on the night. As the set closed with a mass, thing in arms-aloft clap-a-long to VVe Will Rock You, you could hear astonished voices asking who he was.
The Queen connection should help Lambert to break Britain with his second album, Trespassing, due out in March, but it may also prove problematic. Queen are reportedly keen to tour soon with the singer, and, should he accept, Lambert would make millions. First, he insists, he will see how Trespassing fares.
"Brian and Roger understand that I have my music and my own career to progress, and they are supportive of that," Lambert says diplomatically. "But we will definitely perform together again. Standing in for Freddie feels natural for me. I adore Queen's music and, as both a showman and a singer, Freddie is one of my idols. I also connect with him, being gay. It's not an easy thing in mainstream music to be a gay man. In Europe nobody cares, but in the States it's still a big deal. I've had to jump a lot of hurdles and take a lot of hate at home. I can't imagine what it felt like for Freddie as the front man of the world's biggest rock band, back in the 1970s, worried how people would treat him if they found out."
It is fair to say Lambert's career has suffered. When he came out during American Idol, there was outrage. His confession almost certainly lost him the title — watch the performance with Queen in the final and see him demolish the winner, a cute but boyband-bland chap called Kris Allen. When Lambert kissed his male bassist on stage during the 2009 American Music Awards, a media campaign was mounted against him, leading to his being banned from the ABC channel after 1,500 telephone complaints.
Lambert's sexual orientation, however, didn't stop an impressive array of writers wanting to work with him. For Your Entertainment included songs penned by Muse, Lady Gaga and Sam Sparro, and, bizarrely, Justin Hawkins of the Darkness. Why none of a series of singles, notably the Grammy-nominated Whataya Want from Me, became a hit in Britain is tough to fathom, not least because Lambert seems a natural successor to Robbie Williams.
While his debut was assembled in only six weeks, for Trespassing Lambert was allowed to take his time. After almost a year on tour, he rented a house in LA, saw family and friends — and, crucially, fell in love.
"When the tour ended, I was exhausted and a little depressed," he admits. "I was definitely in a dark place when I started writing. My songs were moody, broody and angsty. I decided to make an honest, organic, stripped-back album. Then, thank God, I met my boyfriend. I was so happy, I started writing fun songs, party music."
Half of Trespassing was co-written with Bonnie McKee, the woman responsible for Katy Perry's California Gurls and Teenage Dream. Two songs — including the album's clubby title track, which borrows its bass line from Another One Bites the Dust — were recorded in Miami, with Pharrell Williams producing. "Funnily enough, months before I got the Queen gig, Pharrell was calling me Freddie," Lambert says. "He told me to go to Freddie for my dance music. Freddie and Off the Wall-era Michael Jackson, that's the mix we were aiming for."
Jackson-style funk is one of Trespassing's key ingredients, not least on a slinky song called Shady, on which Chic's Nile Rodgers crops up playing bass. Lambert contacted the guitarist via Twitter, and his million-plus followers watched as the two tweeted each other for days before meeting up in New York. Rodgers later tweeted that "working with Adam Lambert was one of the most organically perfect jams I've had since Bowie".
Elsewhere on Trespassing, there is pumping 1980s rock, Euro-techno and electro, along with a couple of emotive mid-paced anthems, including the first single, Better Than I Know Myself. The defining feature of every song, however, is Lambert's astonishing voice. Rather than the personality-free electro-pop of, say, Lady Gaga, Lambert's dance music hinges on his theatrical, versatile vocals.
Brought up in San Diego on his former DJ dad's 1970s record collection, Lambert joined a theatre group aged eight and was performing in professional musicals from the age of 10. He enrolled in university to study musical theatre, but lasted just five weeks — "I'm not a classroom kinda person," he says.
In his early twenties, already openly gay, Lambert spent six months in Germany performing in Hair, an experience that he claims changed his life. "Being removed from the States, in a progressive country, getting naked on stage every night, I was cracked wide open," he says. "I felt liberated and I found my identity. It was a huge turning point for me."
There were lows to come, however. He got a gig acting alongside Val Kilmer in 10 Commandments: The Musical. While his performance as Joshua, leader of the Hebrew army, was praised by critics, the show sank.
Two years into a national tour of Wicked, Lambert decided to get out of theatre and start making music. He briefly fronted a garage band, did session singing and worked with producers who would come back to sue him when he became famous.
Frustrated by his lack of success, and after two years of careful consideration, Lambert auditioned for American Idol. "I was a fan of the show and I wanted to be on it, but I know it's not cool," he says. "There's always a stigma among tastemakers if you come from a TV talent show, but I did what I had to do to get myself on the map. I mean, I was a 27-year-old white gay guy who wore make-up and heels. No major label was going to touch me. The fact is, 30 million people a week watch Idol — you can't buy publicity like that."
Earlier this year, Lambert left Simon Fuller's 19 management stable and signed with the team behind Katy Perry. While he has claimed he regrets some of his outlandish behaviour after Idol, you doubt he meant it. "Looking back, er, objectively," he says, "to an American audience who came to know me on a TV show, some of my first moves with my music were maybe a bit hyper-sexualised. But I was just being myself, I can't really regret that."
As for the shoes — and the hair — they'll keep getting higher.
"I've just bought a pair of bright blue brothel creepers that make me ridiculously tall," Lambert laughs. "Freddie would have approved. No man objects to a few extra inches."
THE PROPHET BLOG
ADAM LAMBERT – BETTER THAN I KNOW MYSELF
12.18.11
"Better Than I Know Myself" positions Glambert somewhere between being the male Katy Perry and the gay Bruno Mars. The production is tighter than
a Thai teenager
a screw jar, with cascading, Tedder-style drums and twinkling piano melodies that have been carefully engineered to burn a hole in the Z100′s afternoon playlist. It's incredibly radio-friendly, but at the same time, it doesn't feel even the least bit redundant or generic.
Lyrically, Lambert takes a more realistic look at love than most made-for-radio pop ballads before him have, confessing his flaws as a bad boyfriend, while desperately professing his undying love at the same time. For a Top Forty tune, it's beautifully poignant and honest, containing that rare type of magic that's made records like Katy Perry's "Teenage Dream" and Kelly Clarkson's "Because of You" so timeless and touching.
And as much as this is the masterwork of Dr. Luke and Claude Kelly, Glambert deserves just as much of the credit as the hitmakers behind him. It's his emotional delivery that truly brings "Better Than I Know Myself" to life, topped off with that now trademark rock star falsetto that's made the 29-year-old one of the finest male vocalists in the industry today.
As far as pop music is concerned, it just doesn't get much better than this. With songs this stellar, Adam Lambert could be looking at his very own Teenage Dream when Trespassing hits stores this March.
SCORE: 4.5/5
More
www.theprophetblog.net/review-adam-lambert-better-than-i-know-myself

Adam Lambert Debuts "Better Than I Know Myself"
by Larson Hill
ETA: Includes a change made after review was posted.
Adam Lambert debuted his new single "Better Than I Know Myself", the newest track from Lambert's sophomore album called Trespassing.
American Idol season eight runner-up Adam Lambert recently debuted his new single called "Better Than I Know Myself" from the second Lambert album titled Trespassing. The new track is on the softer side for Adam Lambert, who sings about his flaws via such lyrics as, "I get kinda dark, let it go too far, I can be obnoxious at times, but try and see my heart."
Ahead of the March 20 release of Trespassing, Adam Lambert talked to Rolling Stone about the new album, which Lambert described as Nine Inch Nails meets Saturday Night Fever.
There's no doubt that Adam Lambert has another hit on his hands. Judging by the new song, Trespassing should have more depth as a mainstream record.
Link:
www.thedeadbolt.com/1003023778-adam-lambert-debuts-better-than-i-know-myself.html
Adam Lambert aims high with "Better than I know myself"
by KC Claveria | Filthy Pop | Vancouver Music Blog
Adam Lambert is set to release his sophomore album in the new year, and he's starting off this new era with a big bang. His lead single, "Better than I know myself", hits the spot in all the right places, and I'm predicting it to be a huge hit.
To put it quite simply, "Better than I Know Myself" is pop perfection at its finest: it sounds current and "in", but it also doesn't quite follow the most popular formula. Instead of hooking up with someone like David Guetta, Lambert called up professional hit makers Dr. Luke (responsible for Katy Perry's Teenage Dream) and Claude Kelly. Avoiding the predictable dance route, Lambert took his previous hit "Whataya Want From Me" and updated it with more restrained vocals and a more genuine delivery.
The emotion behind the song is what truly elevates it. Whereas 90% of pop music offerings right now are about sex, drugs, and more sex, "I Know" tackles a more emotional subject. The song starts on a reflective and even regretful tone as Lambert sings "Cold as ice and more and more bitter than a December, winter night that's how I treated you".
But as the song progresses, it becomes clearer that "I know" is about holding on to a relationship no matter how many times you've thought about leaving. Backed by a drum-lead chorus, Lambert sings, "If I wanted to leave I woulda left by now but you're the only one that knows me better than I know my self." The American Idol runner up puts his heart and soul into the song, and it works.
The song's one downside for me is the lack of a single climax. With his stunning upper range, Lambert could have easily added one high note after the bridge or just before the song's closing.
But that's really just a minor detail though as the song does show off Lambert's vocal chops several times. The chorus is the absolute highlight, with its strong beat, catchy lyrics, and anthemic melody.
For the past two years, pop radio has been cluttered by too many house- and dance-infused tracks, many of which are peppered with vapid lyrics and formulaic beats. It's great to see a pop-rock single (with some R&B leanings) bursting into the scene. Here's hoping "I Know" becomes the big hit that it deserves to be.

Ed Kennedy/After Elton reviews BTIKM
Posted by Ed Kennedy on December 18, 2011
Adam Lambert released the full stream for "Better Than I Know Myself." Now before someone calls me anti-Adam, get over it. I have his album and listen regularly. I was the first one screaming when ABC screwed him over the AMAs. But this just doesn't wow me. It doesn't sound fresh, and to me it sounds like it could have been on the first album. I had such high hopes. I just think that Adam is more talented than this song.
Link:
www.afterelton.com/meme-12-17-2011?page=last

Glamway!
yousukeshimoji yousuke sjimoji
後ろから二列目 pic.twitter.com/5mIR2sFN
29 minutes ago Favorite Retweet Reply
Retweeted by citygirl36
The Program:
Setlist:
1. For Your Entertainment
2. Down the Rabbit Hole
3. 20th Century Boy
4. Strut
5. Sleepwalker
6. Whataya Want From Me
7. Sure Fire Winners
8. Fever
9. Aftermath
10. Music Again
11. Mad World
12. If I Had You
Plus one more song -- TBD.
Update on Amazon -- 11:00AM up to #13
Trespassing moves from 0 to #153 in first on Amazon
Opens at #1 on Amazon Movers and Shakers!!!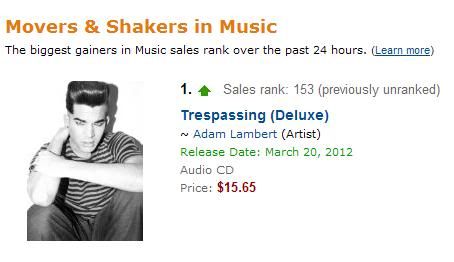 At 12.17.11 10:20PM ET (first update) it moved into the Top 100!!!
At 11:20PM moved up to #44….
- Amazon Best Sellers Rank: #44 in Music (See Top 100 in Music)
- #43 in Music > Pop

If you want to pre-order Trespassing from Amazon, support Adamtopia and use these links or the banner at the bottom of the page! Thanks!
Trespassing:
www.amazon.com/Trespassing-Adam-Lambert/dp/B006N9KFPC/ref=sr_1_2?s=music&ie=UTF8&qid=1324171305&sr=1-2
Trespassing Deluxe:
www.amazon.com/Trespassing-Deluxe-Adam-Lambert/dp/B006MVJ2L4/ref=sr_1_1?s=music&ie=UTF8&qid=1324171305&sr=1-1
Liam plays BTIKM 3 times!!
mmyy9 mmyy9
Liam McEwan's Adam Lambert Hour on the Flea FM, Dec 18 2011 SoundCloud:http://soundcloud.com/mmyy9i/liam-mcewans-adam-lambert-hour (Liam played Better Than I Know Myself 3 times)
Upcoming Events
Check the Adamtopia calendar for more events and links to more info.
NOW "Better Than I Know Myself" - Adam's new single EXPLODES
TODAY: Adam interview will appear in the Sunday Times (UK)
UKGlambert AdamLambertRocksUK
Sunday Times Culture: Adam will feature in this weeks issue get your order in & don't miss out
bit.ly/sIVGBO
www.thesundaytimes.co.uk/sto/public/culture/
December 19, 2011: Adam will perform at the Amway Japan Leadership Conference, Shanghai (private event but video is usually released following the performances.)
December 19, 2011 PREORDER ALBUM AdamOfficial.com

December 20, 2011 BTIKM goes on sale in US. EMAs on Palladia (HD 1080i broadcasts):
Saturday, December 24 12:00 AM 2011 MTV Europe Music Awards
Monday, December 26 7:00 PM 2011 MTV Europe Music Awards
Friday, December 30 9:00 AM 2011 MTV Europe Music Awards
Saturday, December 31 3:00 PM 2011 MTV Europe Music Awards
January 2012: BTIKM release in Germany.
TBD: UK release dates.
Spring 2012 (before March 31, 2012) "Trespassing" by Adam Lambert released
Every Saturday from New Zealand -- Adam Lambert Hour -- Live 5:00PM EDT US.
Link:
theflea.co.nz/
Check out the ALH page for podcast of previous shows.
This is the only weekly Adam Lambert show in the world.
??: Behind the scenes video of Adam #2 recording sessions to be released.
Help Keep Adamtopia a Great Place
Adamtopia is a labor of love -- meaning no one makes any money on this site. So our staff are all volunteers. Be nice to the moderators, they make this forum a pleasant place
We don't have a lot of rules here but they are essential. Just as a reminder...
The Adamtopia guidelines are quite simple. To be a member of Adamtopia...

1. You must be an Adam fan.

2. You must be respectful of other members. Feel free to express your opinion, but be glitterier and golden.

3. Strive to be funny, entertaining or informative when you post. Avoid posting something that has already been posted.

4. Never question anyone's right to post, the appropriateness of a topic or define the proper way for an Adam fan or Adamtopia Member to behave. Let the moderators do their job.

More rules will be added if the need arises but, if everyone follows these rules, we will not need a lot of rules.